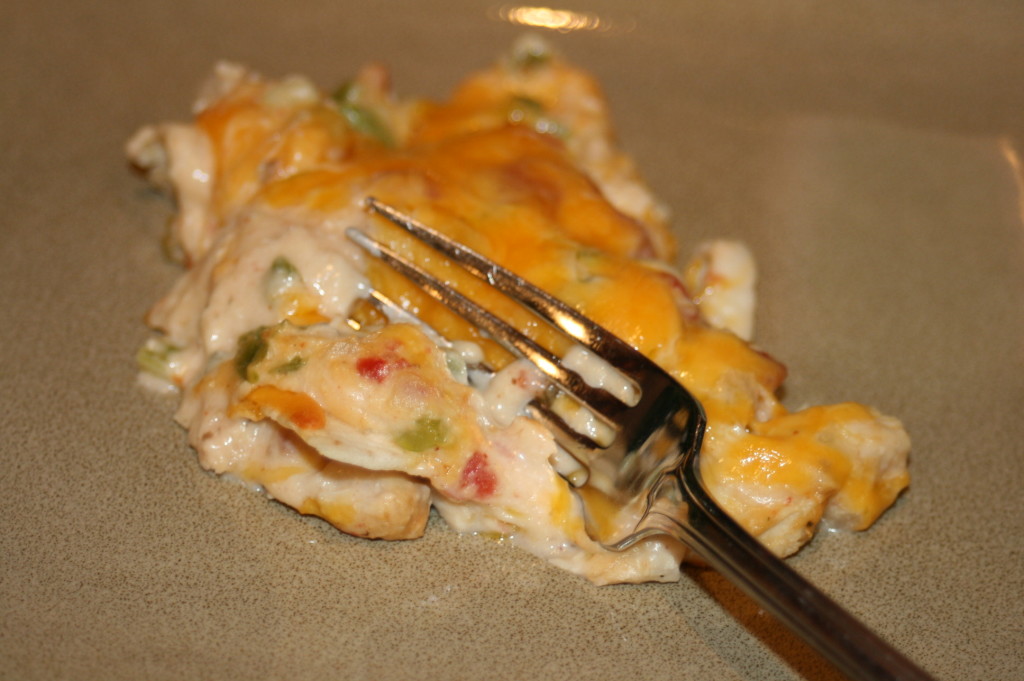 This is my families new favorite recipe right now. The next time you can't think what to make for dinner, try this Tortilla Chicken Bake. It is very easy to assemble, and uses simple ingredients. I can almost promise you there won't be leftovers.

Tortilla Chicken Bake
Ingredients
1 medium green or red pepper, finely chopped
1 small onion, finely chopped
2 celery stalks, finely chopped
1 tablespoon oil
3 cups cubed, cooked chicken breast
1 10 oz cream of mushroom soup
1 10 oz cream of chicken soup
¾ cup sour cream
1 cup diced tomatoes
1 tablespoon taco seasoning
6 tortillas 9" cut into 1" strips
2 cup Mexican or Cheddar shredded cheese
Instructions
In a large frying pan saute peppers, onion, and celery in oil until tender.
Stir in chicken, cream soups, sour cream, tomatoes and taco seasoning.
Line a 9 x 13" baking dish with half of the tortilla strips.
Top with half of the chicken mixture and 1 cup of cheese.
Repeat these layers.
Bake uncovered at 350° for 30 minutes or until bubbly.
What was your favorite recipe this week?
For other recipe ideas, check out Balancing Beauty and Bedlam's Tasty Tuesday.