I'm excited to have Kelly from Mostly Homemade Mom sharing one of her yummy recipes with us today. I recently met Kelly online and discovered we live only a few towns apart and now I can't wait to meet her in real life. I was super excited when she agreed to share a recipe with us. Just looking at the pictures in her posts gets my mouth watering. I have made several recipes from her site and we loved them. If you love strawberries, you have to check out her Strawberry Shortcake recipe as it was a huge hit at my household.
Hello Coupon Cutting Mom readers! My name is Kelly and I'm the girl behind the scenes at Mostly Homemade Mom. I live in Central PA with my husband Paul and my adorable little boys, Silas (4 years old) and Wesley (20 months old).
I big puffy heart love coupons! When Silas was about 6 months old, I discovered the world of coupon and deal blogs – and I've been hooked ever since. I love scoring great deals!
This Toasted Coconut Pudding Pie is the perfect dessert for summer parties and pairs nicely with coupon deals around this time. Do yourself a favor and take the extra few minutes to toast the coconut – it's really easy to do, enhances the coconut flavor, and gives a great crunchy texture.
Toasted Coconut Pudding Pie
Adapted from A Little Bite of Life
1 1/4 cup graham cracker crumbs
5 tablespoons butter, melted
3 tablespoons sugar
1 box (3.4 oz) instant vanilla pudding mix
1 box (3.4 oz) instant coconut cream pudding mix
1 1/2 cups cold milk
1 container (8 oz) Cool Whip, thawed
8 oz crushed pineapple, drained
1 cup shredded coconut
In a medium bowl, mix together graham cracker crumbs, melted butter, and sugar. Press into bottom and up sides of a deep dish pie plate. Bake in a preheated oven at 350 degrees for 8 minutes, remove from oven and cool.
Spread coconut in a thin layer on a cookie sheet and place in oven for 2-6 minutes until toasted and golden brown. Keep an eye on the coconut as it can burn quickly. Remove from oven to cool.
In a large bowl, stir together dry instant vanilla and coconut pudding mixes. Beat in cold milk for 2 minutes, until pudding is thickened. Stir in cool whip, crushed pineapple, and 3/4 cup of the toasted coconut. Spoon filling into cooled crust and top with 1/4 cup toasted coconut. Refrigerate one hour before serving.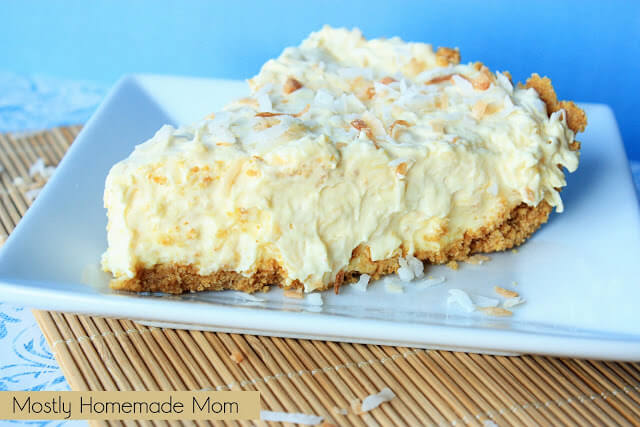 Not a crumb left at your next picnic, guaranteed! Looking for more shortcut desserts? Why don't you check out…
Bananas Foster Waffles
 I would love to have you visit me over at Mostly Homemade Mom sometime – stop by and say hello. Esther, thank you so much for having me here today.