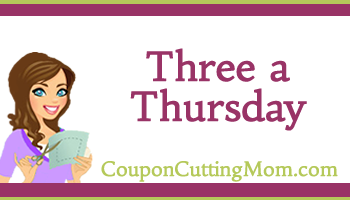 What is Three a Thursday? Three a Thursday is a weekly campaign to provide companies with our honest opinions on their products in hopes that they will be kind enough to reward us with coupons for our efforts. Head here for more details and an example of what to include in your phone call or email.
Here are the companies to contact this week:
What coupons have you received recently from contacting companies? 
Here are a few I received in the last few weeks $5/1 Earthbound Farm, FREE package of Mueller's Pasta, FREE up to $5.50 on any Glade, Pledge, or Shout, $1 off any Mt Olive Pickles, $0.50 off Borax (I am excited about this one as the next time I need to purchase my ingredients for soap making I'll be able to get a great deal with this coupon).