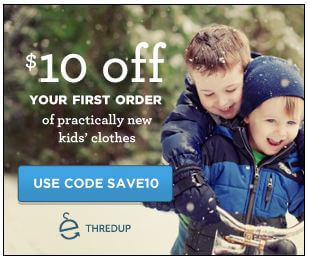 This promo has been extended through January 21st.
If you have never tried thredUp, now would be a great time to give them a try. ThredUP is a site offers like-new kids clothing and shoes at great prices. This site is like shopping at an online consignment store or online yard sale. And they are currently offering new members a FREE $10 credit when you use code SAVE10 at checkout. This means FREE kids clothing or shoes after your credit. All you will pay is the $6.95 shipping!
The ThredUp site is very easy to use. You can search clothing by gender, style and size. Make sure to search from Low to High to find the best deals. There are quite a few pieces of clothing priced around $3-$4, so you can purchase 3 items for approximately $7 shipped to your door!