This is a Sponsored post written by me on behalf of White Cloud for SocialSpark. All opinions are 100% mine.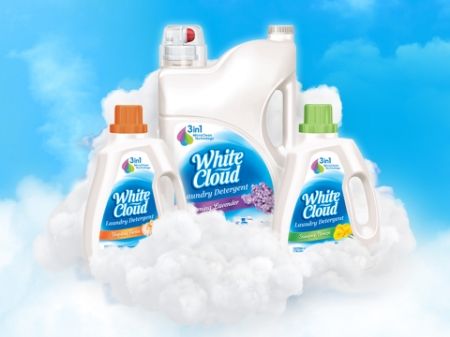 Spring will officially arrive next month, which means warmer weather is on the way. One of the things that my family enjoys doing during the warmer months, is to head outdoors. After a long winter season, all we want to do is enjoy the local parks, take long walks and play outside. It's a great way to let the kids burn off some energy and also spend quality time with them. However, along with the fun also comes the grass and dirt stains that all of us moms dread. I truly believe that the more fun they have, the dirtier their clothes get! This can be frustrating because we want our children to create memories, but we don't want them to ruin everything they own. I know I'm not the only mom that has thrown out an article of clothing because the stains simply wouldn't budge.
Luckily, the makers of White Cloud products have created a new line of laundry detergent to help solve this problem. The White Cloud family is a premium brand of household items that includes bath tissue, facial tissue and paper towels available at Walmart. They are known for providing high quality products at an affordable price. The White Cloud Laundry Care is their newest product and it offers 3-in-1 micro clean technology that will remove even the toughest stains. What this means is that they combine pre-treater, stain remover and color booster to help get the tough stains out. You can also choose a scent that's unique to your family since White Cloud Laundry Care offers the following scent options: Blooming Lavender, Summer Breeze, and Tropical Fiesta. White Cloud Laundry Care comes in both liquid and powder form, in 100 and 150-ounce sizes in liquid and a 156-ounce box in powder. So there are various options for all laundry detergent preferences. I also love that they believe that "The Dirtier the Clothes, The Bigger the Memory".
White Cloud is currently offering their Facebook fans the opportunity to receive a high value coupon of $2 off coupon! All you have to do is share it with your family and friends on Facebook, Twitter or Pinterest. A $1 off coupon will still be available to fans that choose not to share. Only one coupon is available per customer. Use the handy Store Locator to find where White Cloud items are sold in your area.
With White Cloud Laundry Care you know you're covered, so you don't have to let tough stains stop you from creating memories. So as the warmer weather arrives, head outdoors with your kids and play. Dirty clothes will no longer be a problem.
Limit one coupon per purchase on product specified. No cash back if coupon value is higher than purchase price. Void if reproduced, transferred, used to purchase products for resale or where prohibited/regulated by law. Not valid on trial sizes. Consumer pays sales tax. Redeemable at participating retail stores. Valid only in the U.S.
Be sure to: 
 Follow White Cloud on Pinterest