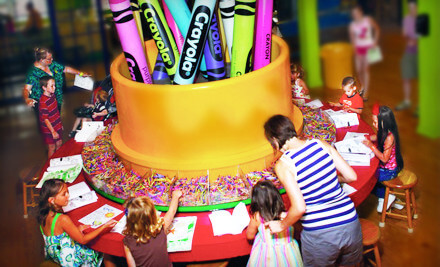 Update – the following offer is no longer available but be sure to check out this similar money saving Crayola ticket offer.
Have you been to the Crayola Factory in Easton, Pa? It is a fun place for kids and adults alike. And right now Groupon is offering a great deal on admission. For only $12 you can score admission for 2! Regular admission price for 2 is $24, making this a savings of 50%.
At the Crayola Factory kids bring ideas to life in projects with melted wax, paint & hundreds of crayon colors, they will learn about Crayola's history & also watch crayons being made.
I think I'm buying this as part of my younger daughters birthday gift as she doesn't remember being at the Crayola Factory. My older daughter absolutely loved her visit there and is begging to visit again.