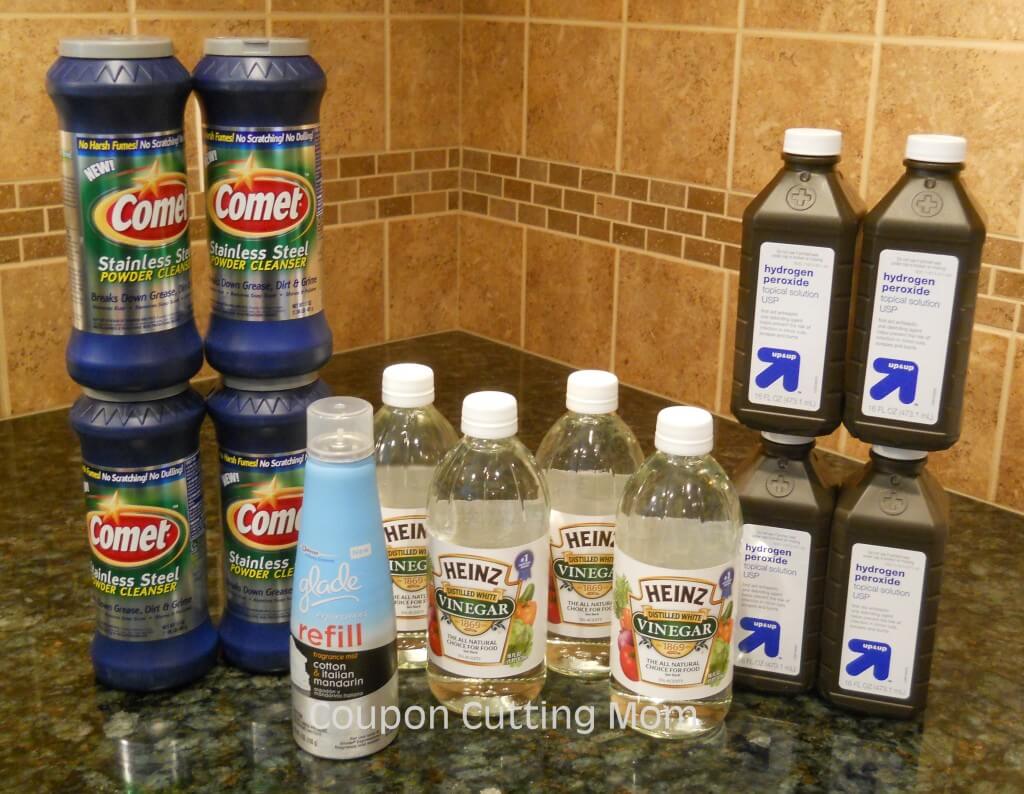 These items are from my Target shopping trip and have a shelf price of $16.86 including tax. After sales and coupons I paid $0.28 and had I remembered my reusable bags I would have paid only $0.18.
Want to score FREE Comet, hydrogen peroxide, Glade and almost free vinegar? Here are you can get the same deals.
Comet Stainless Steel Powder Cleanser $1.99 (Regular Price)
Use the $1/1 Comet Stainless Steel Target Coupon
Plus use the $1.00 off on any Comet Stainless Steel
Pay $0.00!
Up & Up Hydrogen Peroxide 16 oz bottle $0.52
Use the $0.75/1 Up & Up first aid Target coupon 
Pay $0.00! This coupon will deduct only $0.52 not $0.75
Heinz Vinegar 16 oz bottle $1.07 (on price cut through 7/21)
Use the $1/1 Heinz Vinegar coupons from the 6/24 SS
Pay $0.07!
Glade Expressions Refill $1.99
Use the $2/1 Glade coupon from the 7/15 SS
Pay $0.00!
Watch for the Glade Expressions Starter kit priced at $2.99
I found some with a "Try Me Free" tag hanging on them
Use the $2/1 Glade coupons
Pay $0.99
Submit for the rebate
Final price better than FREE!