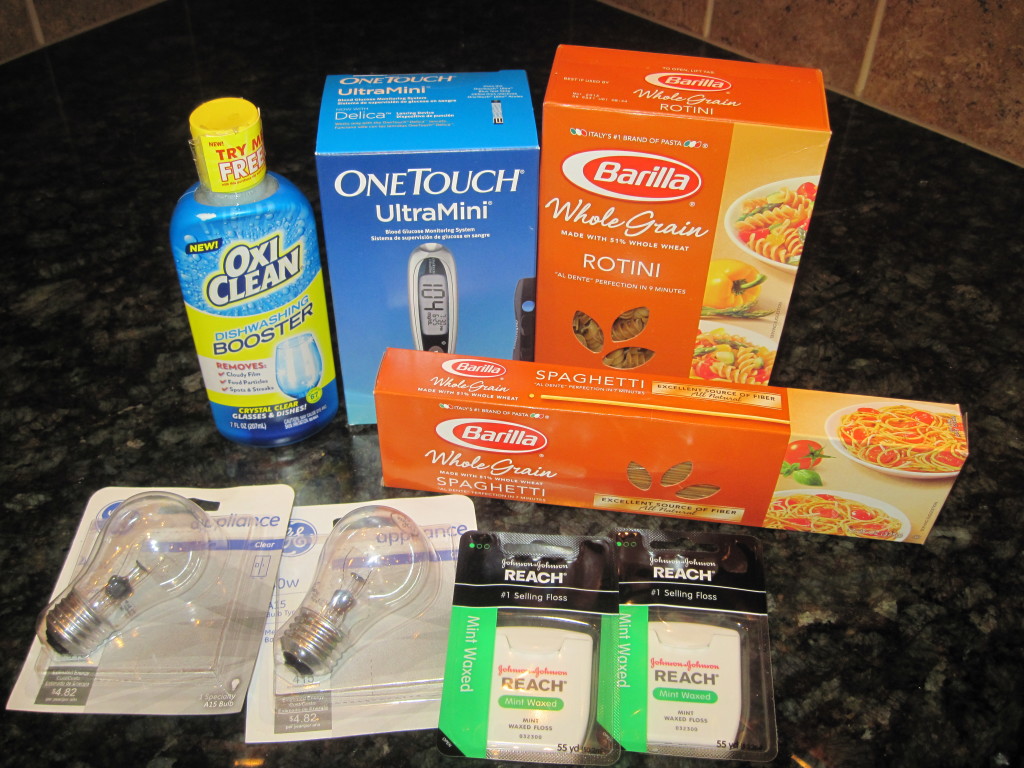 These items are from my Target shopping trip. I love to shop at Target, but it had been awhile since I was there. It was good to be back. I'm thinking next time I won't wait so long to shop there.
These items had a shelf price of $29.02. After sales, coupons, and mail in rebate this transaction will have cost me $0.28 including tax and my 5% Target Red Card savings.
Here is a breakdown of the items I purchased:
Oxi Clean Dishwasher Booster $3.99
Keep your eyes peeled for bottles with "Try me Free" tags
Pay $3.99
Send in for rebate
Final price $0.00!
Reach Floss $0.97
Use the $1/1 Reach Toothbrush or Reach Floss printable
Or use the $1/1 Reach Floss coupon from the 3/4 RP
Pay $0.00!
One Touch UltraMini Meter $9.99
Use the One Touch UltraMini meter printable coupon
Or use the $10/1 One Touch UltraMini coupon from the 4/29 RP
Pay $0.00!
Barilla Whole Grain Pasta $1.16
Use the $1/1 Barilla Whole Grain Pasta printable
Pay $0.16!
I had a Target coupon for $2 off GE lightbulbs, it gave no wattage or package size. The lightbulbs were very picked through but the cashier said the packs of bulbs I got would work fine. They were priced at $1.29 each, so free after coupon.