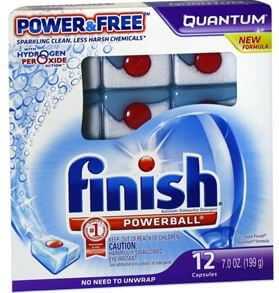 Finish Dishwasher Tabs Only $0.99
It seems it has been a long time since there was a really good deal on dishwasher tabs and my supply was running dangerously low. I was very excited about this Target deal on Finish dishwasher tabs that comes out to only $0.058 per tab!
Here is the Target Finish Dishwasher Tab deal:
Finish Power & Free Powerball 17 ct Dishwasher Tabs $3.99 (reg. price)
Use the $1/1 Finish Power & Free Target printable coupon
Use the $2/1 Finish Power & Free printable coupon
Pay $0.99!
Thanks, Totally Target!