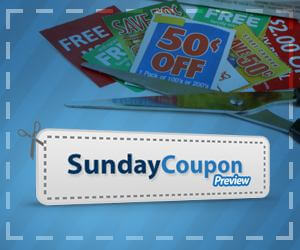 This weekend 7/28/13, we will see FIVE coupon inserts in the Sunday Paper. Yes, that is correct 5 coupon inserts. That is the highest amount of inserts I ever remember receiving so this would be a great week to buy several papers.
Here are just a few of the coupons I'm excited about:
$1/1 Diet Pepsi Multipack
$1/1 Stayfree Item
$1/1 Colgate 360 Manual Toothbrush
$1/1 Colgate Toothpaste
$3/2 John Frieda Products
$1/1 Velveeta Cheesy Skillets
$0.75/1 all Laundry Detergent
$1/1 Brawny  6 Roll Pack or Larger
$0.50/1 Sparkle Package
$1/1 Wet n Wild Product
$1/1 Herbal Essences Body Wash
$2/1 Secret Clinical
$2/1 Tide Boost (excludes Pods)
Click to see the Sunday Coupon Preview 7/28/13. What coupons are you looking forward to cutting out of this weeks inserts?
If you don't get the Sunday paper or need more copies of certain coupons check out these two sites. Head over to Wiz Clipz where you can purchase 10 coupons for only $1.50 shipped to your door! Or head to Insert Insanity where you can purchase whole inserts shipped right to your door.