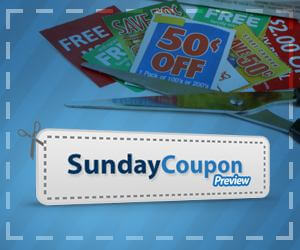 This weekend 1/6/13, we will see 5 coupon inserts in the Sunday paper!! There will be 2 Red Plum inserts and 3 Smart Source inserts.
Here are some of the coupons I'm excited about:
$1 Method coupon
B1G1 Stayfree coupon
FREE Good'n Natural Bar
$2 Snapware Food or Home Storage
B1G1 Bic Disposable Razor
Click to see the January 6 Sunday Coupon Preview. What coupons are you looking forward to cutting out of this weeks inserts?
If you don't get the Sunday paper or need more copies of certain coupons check out these two sites. Head over to Wiz Clipz where you can purchase 10 coupons for only $1.50 shipped to your door! Or head to Insert Insanity where you can purchase whole inserts shipped right to your door.