This is a sponsored post written by me on behalf of Just Between Friends of Reading. All opinions are my own.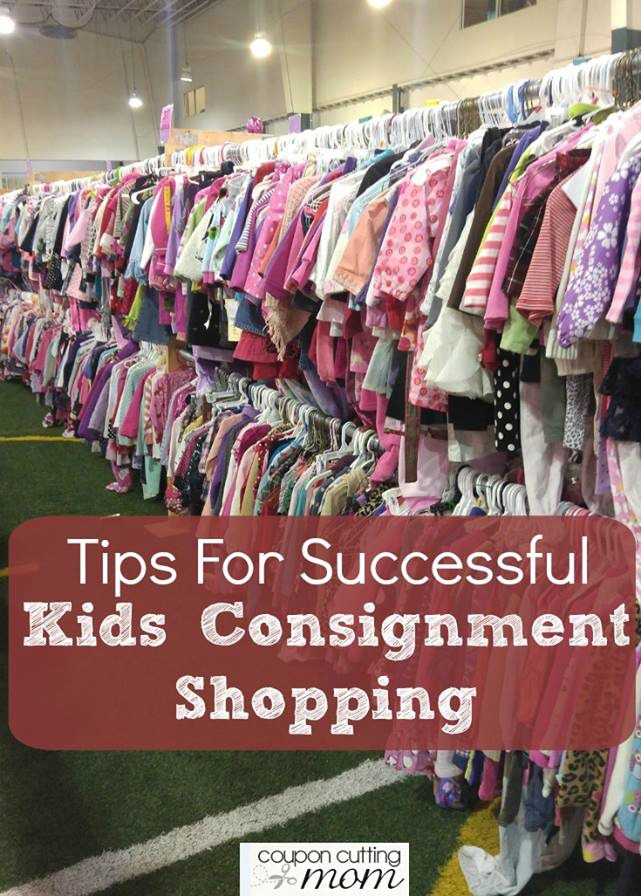 Tips For Successful Kids Consignment Sale Shopping 
I'm so excited spring is finally here as that means warmer days and more time being spent outside enjoying the sunshine and fresh air. Another one of my favorite parts about spring is kids' consignment sales. After what feels like months of wearing long sleeves, thick coats, sweaters, and shoes, the kids are more than ready to get out the flip flops, short sleeves, and swimwear. The Just Between Friends Reading sale is coming to the Body Zone in a few weeks, and I'm excited to shop and stock the kid's spring/summer wardrobes with new-to-them clothing, toys and books for a fraction of the cost of new.
It's time to make your Spring/Summer consignment sale shopping lists. With a list in hand, you will be prepared to find great buys on everything from baby items, to outdoor sports equipment and crafts, to pool toys. Finding the items on your list without breaking the bank is a score for both the kids and mom and dad! Here are the tips I have used throughout the years to make for a successful kids' consignment sale shopping.
SIGN UP FOR PRE-SALE TO SCORE THE BEST BARGAINS 
Shopping early is the best way to guarantee you will snag the best deals. You can get an early shopping pass by volunteering to work the sale, consigning items or paying a small entrance fee. Also, most sales often offer early shopping passes to pregnant moms, new parents, and teachers.
KNOW WHAT YOU NEED
Before the sale be sure to go through your kid's drawers and write a detailed list of items you will need in the next six to nine months. A list keeps you on track while shopping and also ensures you don't forget any essential items. Putting a star beside most-needed items is helpful and gives you an idea where to head first at the sale. Big ticket items like wagons, ride-on toys, sandboxes, toddler beds, etc. are often snapped up quickly so be sure to head to those areas first if you have any of those items on your list.
TAKE MEASUREMENTS BEFORE SHOPPING 
Measure your kids. Measure their legs, arms, inseams, waits, feet, etc. Since standards of sizing seem to vary by brand, it is helpful to have exact measurements with you while shopping, especially considering consignment sale purchases are non-returnable. To get a good idea of shoe size, trace their feet onto cardstock paper. A piece of yarn cut to needed length or a tape measure works ideal for waist sizes, lengths, and inseams. Also be sure to look in the sizes just above and below your child's actual size as you may find things tagged smaller/larger that are perfect fits.
DRESS APPROPRIATELY AND CARRY A BIG BAG 
Wear comfortable shoes as you will likely be on your feet for at least a few hours while shopping. Also, wear layers as these sales are often held in sports complexes and other large areas, and the temperatures can range from very warm to cold.
Plan how you will hold and carry all your great finds. I have seen shoppers with wagons, laundry baskets and large Ikea bags. My personal favorite bag for shopping this sale is my Thirty-One large utility bag as it is very easy to sling over my shoulder while holding all my bargain finds. Also, check if your sale has a Hold Area. Hold areas makes shopping with free hands so easy. Not only will they hold large ticket items for you in the Hold Area, but they will also tag and keep your filled shopping bags until you are ready to check out.
GRAB NOW AND DECIDE LATER
As you are shopping and find things you may want, put them in your bag now. Then when you are finished shopping the sale find a quiet spot and go through your items before heading to checkout. Check the items out more carefully and sort into a keep, maybe and put back pile. Knowing your price points for each type of item will also make your decisions easier and help you make sure you are putting your money in things that you need and that hold up well. For example, I wouldn't have a problem paying $12 for a size 8 Lily Pulitzer dress, but I wouldn't be ready to shell out the same amount for a Carter's dress considering I have bought brand new dresses in their store for $8 or less on sale.
JUST BETWEEN FRIENDS READING SPRING 2017 SCHEDULE
Mark your calendar for the Just Between Friends Reading Spring 2017 sale from April 27-30, 2017. This sale is held at the Body Zone in Wyomissing (Reading area), PA. With 40,000 square feet of items for sale you are sure to find lots of great bargains on all things kid related. Parking is free! There is a $3 admission fee the first day of the sale but you can get a FREE ticket here.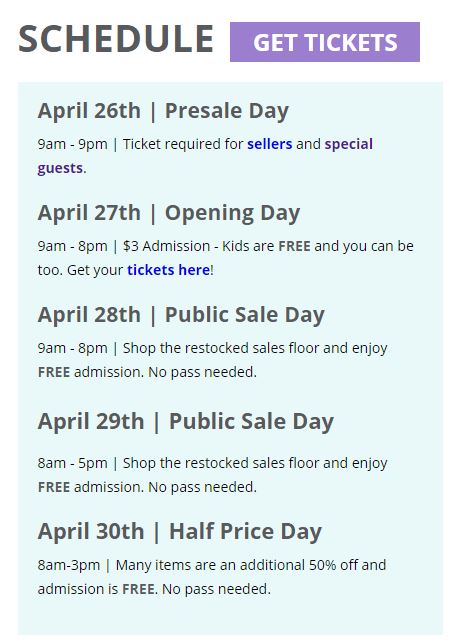 Also, there is a pre-sale day before the public sale opens. On April 26, cosigners, other members and special guest can shop early. The special guests includes
first-time parents
,
grandparents
,
teachers
and those who purchase a
Prime Time pass
. If you fall into any of these groups get ready to shop early. Just be sure to get your pass
here
so that you can get in and start shopping early.
LEARN MORE
Be sure to visit the Just Between Friends Reading page for shopping information, pre-sale passes and more. Follow JBF Reading on Facebook, Twitter and Instagram for updates, pictures and more sale info. I hope to see you in a few weeks at the JBF Reading sale!