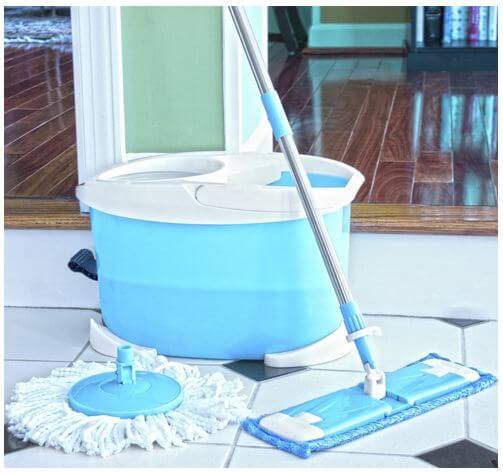 This Step Spin Mop is on sale today for only $29.99 (reg. $99.99). Shipping is free.
Have you always wanted squeaky clean floors in your home, without having to break your back to do it? Leave it looking as spotless as a hotel lobby with Viatek's specially designed spinning mop-without ever having to bend!
Designed to prevent you from having to bend down to reach problem areas, it features a 360-degree pivoting head that reaches underneath furniture, corners, and walls. The handle can also lay flatly to reach underneath beds and couches comfortably.
Made of specially constructed microfiber, it won't leave streaks or smears on your floor. The specially designed bucket features a pedal and centrifugal technology that helps you remove the excess water from the mop with ease. When the mop head gets dirty, simply wash it to reuse it over and over!
This set includes a BONUS flat head mop to help you clean larger surface areas!
Features Include:
Easily collects hair, dirt, and dust
Reaches anywhere in the room-corners, walls, etc.
Bucket with centrifugal technology easily removes excess water
Microfiber leaves no streaks or smears
Can be washed up to 300 times
Includes a bonus flat mop head for cleaning bigger areas
Get your Step Spin Mop while it is at this low sale price. This offer is good 9/3 only.