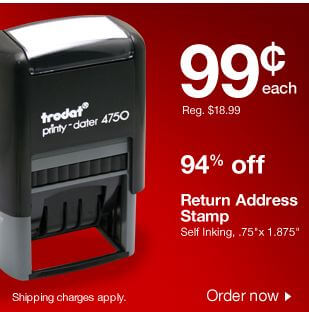 Staples is offering this Self Inking Stamper for only $0.99! This stamp is the perfect size for a return address or deposit stamp.
Shipping charges will apply to this deal since it isn't available for store pickup. BUT if you choose to "upload an image" you will be able to score FREE shipping.

I really needed a Deposit Only stamp, so I added the dollar symbols and viola my shipping was FREE! I didn't really feel like paying $12 for shipping and thanks to this little symbol my total is now only $0.99 + tax!
To order your $0.99 stamp,
Head here and click on the "shop now"
Then click on the red pic with the stamp on the right hand side
Choose the first stamp listed which is priced at $0.99
Then select advanced editing. This is where you can upload an image from your computer to add to the stamp.
When you are finished designing the stamp, click "next" through all the add-on items
Then choose Free Shipping on your self inking address stamp and your total should be only $0.99!
Thanks, Mission To Save!