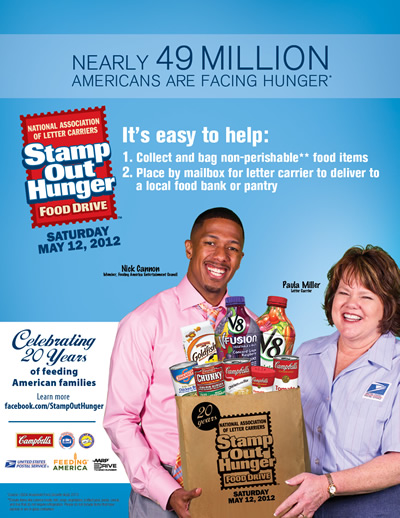 Saturday, May 12, 2012 is Stamp Out Hunger Food Drive sponsored by National Association of Letter Carriers. It's the nation's largest one-day food drive collecting more than 70 million pounds of food across the United States.
The letter carriers make it so easy for you to give your canned goods and non-perishables. All you need to do is place a bag of non-perishables by your mailbox and they will pick the bag or bags up on Saturday. So very simple. Plus, your donations are distributed within your local community and state.
Here are some facts from the Stamp Out Hunger site that I found interesting.
Celebrating its 20th anniversary this year, Stamp Out Hunger food drive has collected more than one billion pounds of food since its inception in 1993. In 2011, generous Americans donated 70.2 million pounds of food, which marked the eighth consecutive year that at least 70 million pounds of food were collected.
Campbell Soup Company will kick off this year's food drive with a pledge to donate one million pounds of food to Feeding America.
The need for food assistance has never been greater. According to the U.S. Dept of Agriculture's annual study measuring food security in the United States, the number of Americans living in food insecure homes was 49 million in 2011, and one in five of these people was a child.
A recent survey conducted by Feeding America, found that nearly half (46 percent) of households reported having to choose between paying a utility bill or purchasing food.
I'm hoping reading these few facts has motivated you to make a donation. I know there are only a few days left before this Saturday, but I'm sure most of us have a stock pile that we can raid and come up with a least one bag of items to donate. With coupons it is so easy to get items for very inexpensively or even free, so please consider passing a few of these items on to someone who would really appreciate them.
Here are a few items they listed on their site for donations:
Canned soup
Canned meat and fish
Canned vegetables, fruits, and juices
Boxed Items (such as cereal)
Pasta and rice
Now for the giveaway, please take a picture of the items you are planning to donate on Saturday and email the picture to me at [email protected] If it isn't to difficult also include the total number of items you are donating. I would love to see Coupon Cutting Mom readers donate a total of at least 200 items. I will then randomly select two winners from all those that submit a picture. Each winner will receive a $15 gift card of their choice to either Target or Amazon. The deadline to have the picture emailed is Saturday, May 12 at 7 pm EST. I will then announce the winners by 8 am. Monday, May 14.
Remember any amount, even a few items will make a difference. The items you donate do not need to be donated to the Stamp Out Hunger, if you have another organization you would rather donate to that is fine. My items like health and beauty items I donate to a local location that has use for them but I will include them in my picture as they will also be a donation. I will be posting a picture of my donation items by Thursday and reminding you about this food drive and giveaway several more times before Saturday.