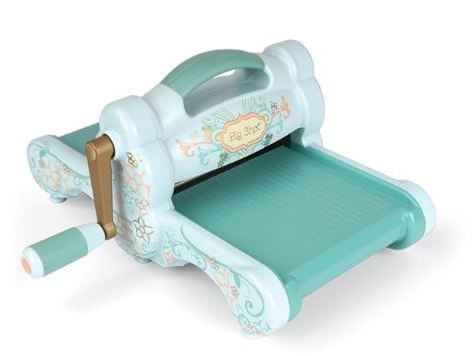 Amazon is offering the Sizzix Big Shot Cutting and Embossing Roller Style Scrapbooking Die-Cut Machine for only $69.99 (reg. $119.99). Shipping is free.
Why do we call our biggest shape-cutting and embossing machine the "Big Shot"? It's simple really: the ever-versatile stylish Big Shot machine works with EVERYTHING, from our smallest dies to our big 6″ wide plastic-backed treasures and embossing tools. With a bold new look in powder blue & teal, the award-winning Big Shot now includes the breakthrough Extended Multipurpose Platform that ensures instant compatibility with the entire library of Sizzix embossing tools and chemically-etched dies, including Sizzlits Decorative Strip dies. The Extended Multipurpose Platform offers a larger work surface to create multiple projects at once. And as if that wasn't big enough, this ultimate portable roller machine also cuts and embosses a whole host of different materials, everything from cardstock to fabric and many things in between. With the addition of the Extended Multipurpose Platform, one machine truly does it all! Now that's a big deal, even for a Big Shot. No wonder it's consistently one of the highest-rated and best-selling die-cut machines on Amazon! Just ask the many satisfied customers… For scrapbookers and crafts enthusiasts, the Big Shot offers everything you need to truly unleash your creativity and create your very own masterpieces.
Newest model Big Shot with Extended Multipurpose Platform and Powder Blue & Teal design
Portable shape-cutting and embossing roller-style machine accommodates a wide range of crafting materials from paper to fabric
Works with almost the entire Sizzix product library, as well as other die-cutting and embossing tools
Includes new extended multipurpose platform and a pair of standard cutting pads
Measures approximately 14-1/4 by 12-3/8 by 6-5/8 inches
Get your Sizzix Big Shot Cutting and Embossing machine here.