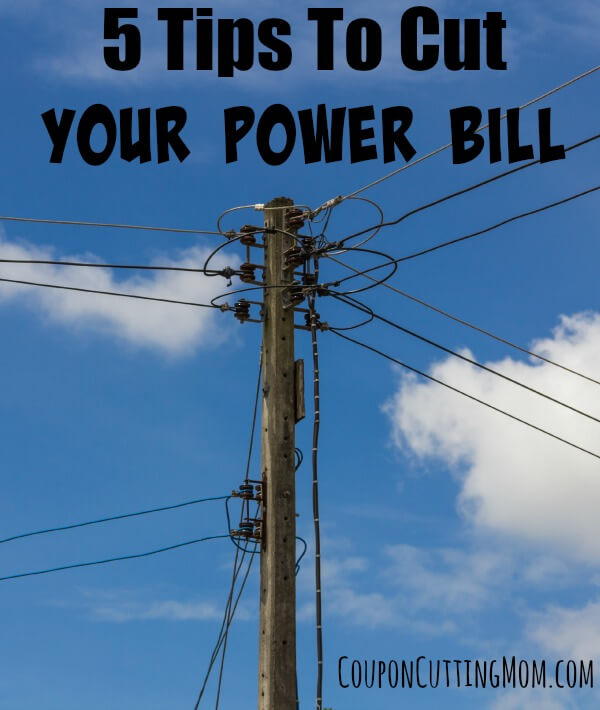 One of the largest drains on the family budget come from utility bills.  These
5 Tips To Cut Your Power Bill
is an excellent way to start cutting your utility budget with ease.   Whether it is summer air conditioning or winter heating that has you frustrated, this year you can start eliminating some of your monthly expenses with ease.
5 Tips To Cut Your Power Bill
Change your thermostat settings.  In summer months set your household thermostat a bit higher to 75-78 degree setting.  Use ceiling fans, heavy floor fans and lighter layers of clothing to stay cool.  In winter months set your household thermostat lower to 65-68 degrees and add on layers of clothing or more blankets as needed.
Improve window and door seals.  Upgrade your windows to double storm windows with new seals, and update your doors to solid doors with new seals. Seal any leaks where drafts can come through.
Keep window shades, blinds or curtains closed.  We love seeing the sun coming in on a beautiful summer day, but that glaring sun can also create extra heat in your home that results in higher power bills.  Make sure to keep your window shades, blinds or curtains closed during the heat of the day to cut back on costs.  You can also line your windows thick blankets in winter months to help cut back on the cool air that will cause your inside temperature to go down.
Change to regulated billing.  Once you've been with most utility companies for at least one year, you can often contact them regarding a regulated monthly bill.  They will change your monthly bill to the same amount each month base don an average of the previous years bills.  This means you may pay a bit more some months than you normally would, but much less other months.  It is often much easier for families to budget and manage this way.
Turn off the lights.  We have become so use to having lights on, TV on, radio on or electronics going at all times.  The simple act of turning lights off, unplugging electronics and switching off the electronics when not in use can save a few hundred dollars over the course of the year.  It is also one of the easiest ways to cut your power bill.
Other great ways to cut your power bill include updating your insulation, investing in solar panels or upgrading appliances to more energy efficient versions.  These simple changes listed here are great for any family at any income to change and help save money this year. What are some things your family does to cut your power bill?