This is a sponsored post written by me on behalf of Just Between Friends of Reading. All opinions are my own.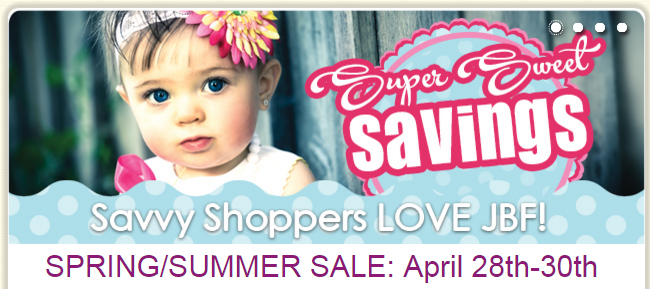 One of my favorite things about the end of April is that my favorite kid's consignment sale is in town. And this isn't just any old sale, but 
it is one of the largest Just Between Friend sales in the country
! How exciting is that?! The 
Just Between Freinds Reading sale
 is being held through April 30 at the Body Zone in Reading, PA. Moms and dads you will want to make plans to shop this amazing sale sometime this weekend and find bargain prices on baby gear, toys, clothes, books, sports equipment, maternity wear, shoes, electronics and anything else you can think of that relates to babies through teens. With
over 200,000 items at this sale
, this weekend you are sure to find anything and everything kid related that you could possibly need or want.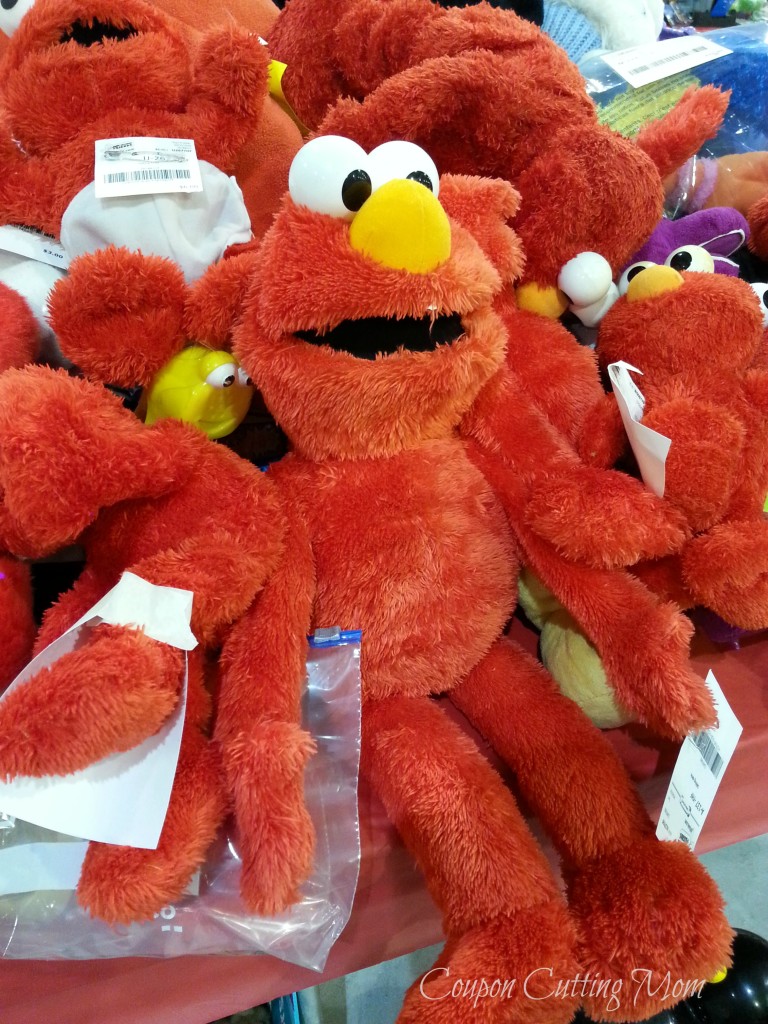 My favorite thing about the
Just Between Friends sale
besides the excellent prices is the organization! Things are super organized, well-labeled and grouped together by categories. Let's say your kid is a huge Elmo fan and you want to bring a new Elmo toy home for him. Thanks to the amazing organization at this sale, you will find all the Elmo toys grouped together at one spot. Shopping at a consignment sale really doesn't get better than that. Check out a shopping map 
here
 or pick one up at the sale entrance as items are spread out throughout the building – boys clothing is on the turf field, the ice rink contains all the toys, bikes and furniture are on the basketball court. Also, 
don't miss the Hold areas
 as these spots are the perfect place for when your bag is getting too full and your arms are getting heavy. Just drop your items here and continue shopping and then pick them up when you are ready to checkout.
Check out all those toys in the above picture! Now would be a very good time to plan ahead and also save yourself some money by buying toy items you need for any upcoming birthday's or even start your Christmas shopping.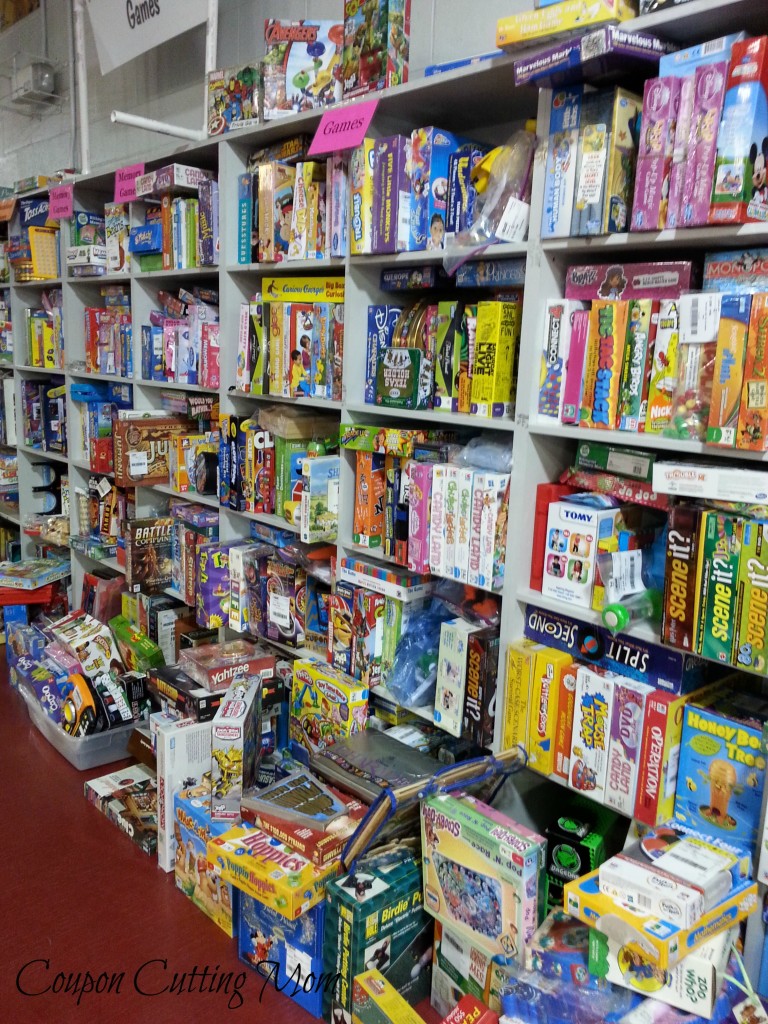 Or check out all these games that would make for some fun family game nights.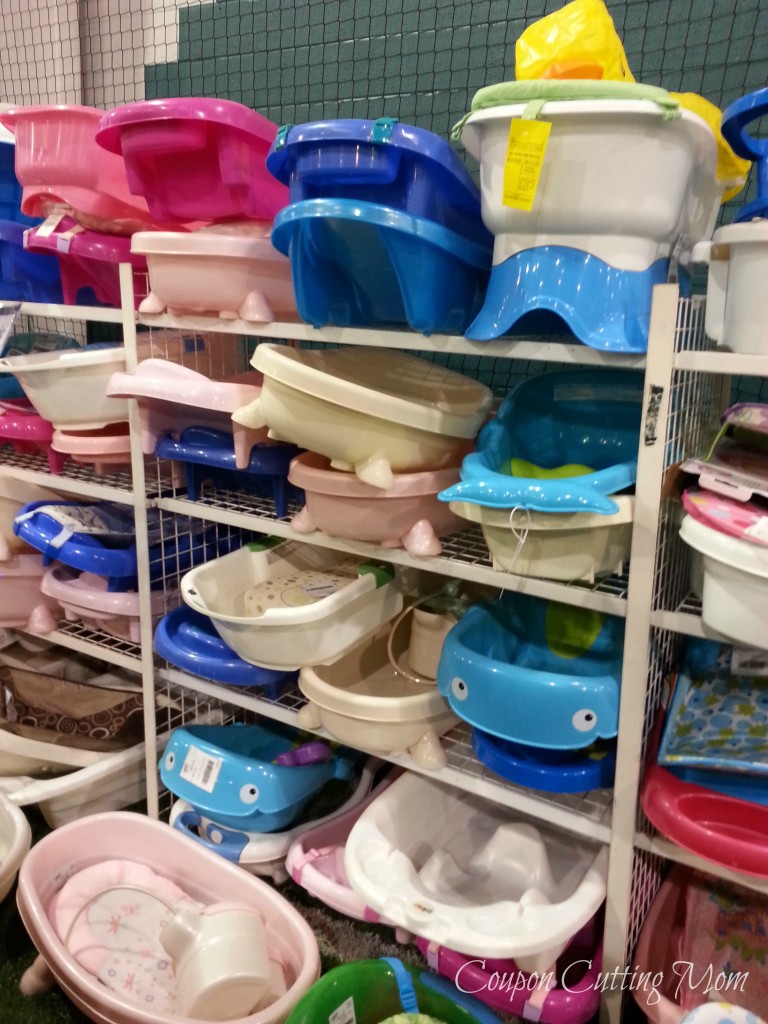 Do you need a baby bathtub? You will surely find one here.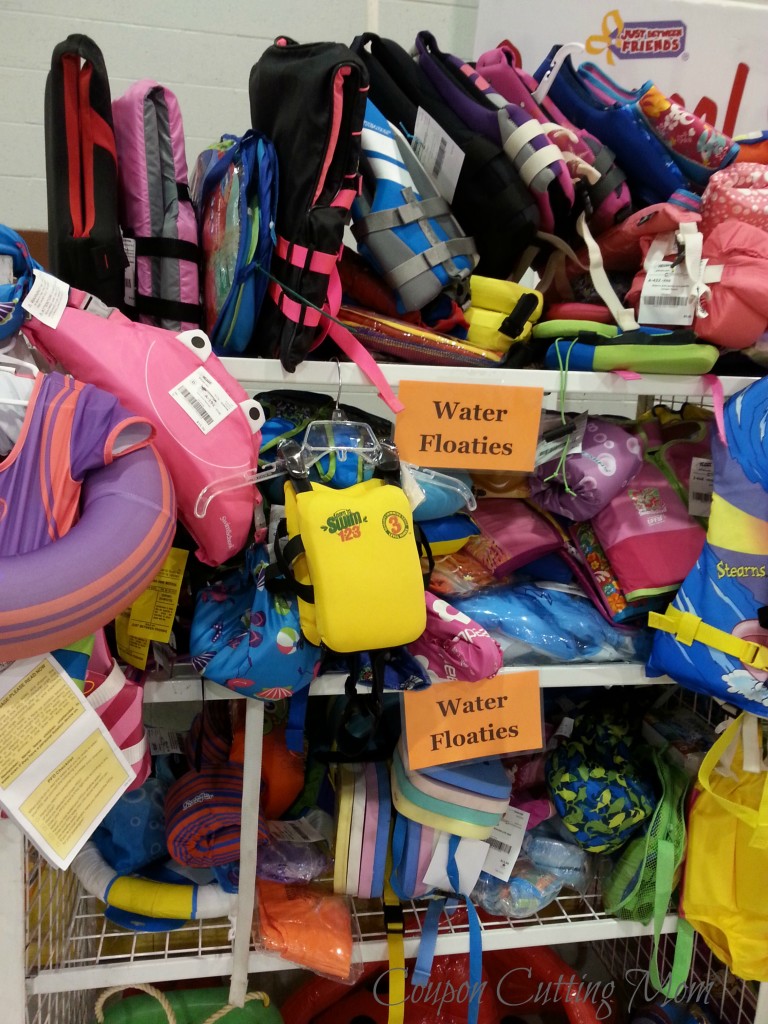 Get ready for pool fun with all these puddle jumpers and flotation items. Both of my daughters learned to swim very well at a young age by using the Back Float device, and I found several of them on this shelf with prices starting at only $2!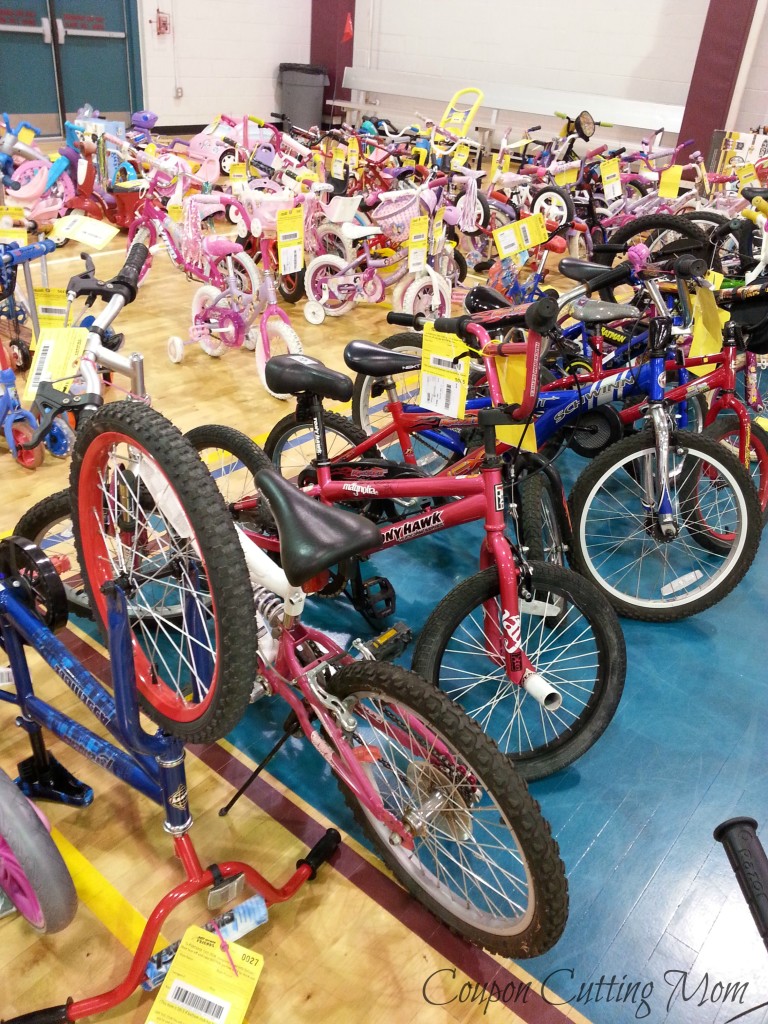 School will be out for the summer just shortly and any of these bikes and ride on toys would be the perfect way for the kids to enjoy some fresh air and exercise while having fun on a summer day.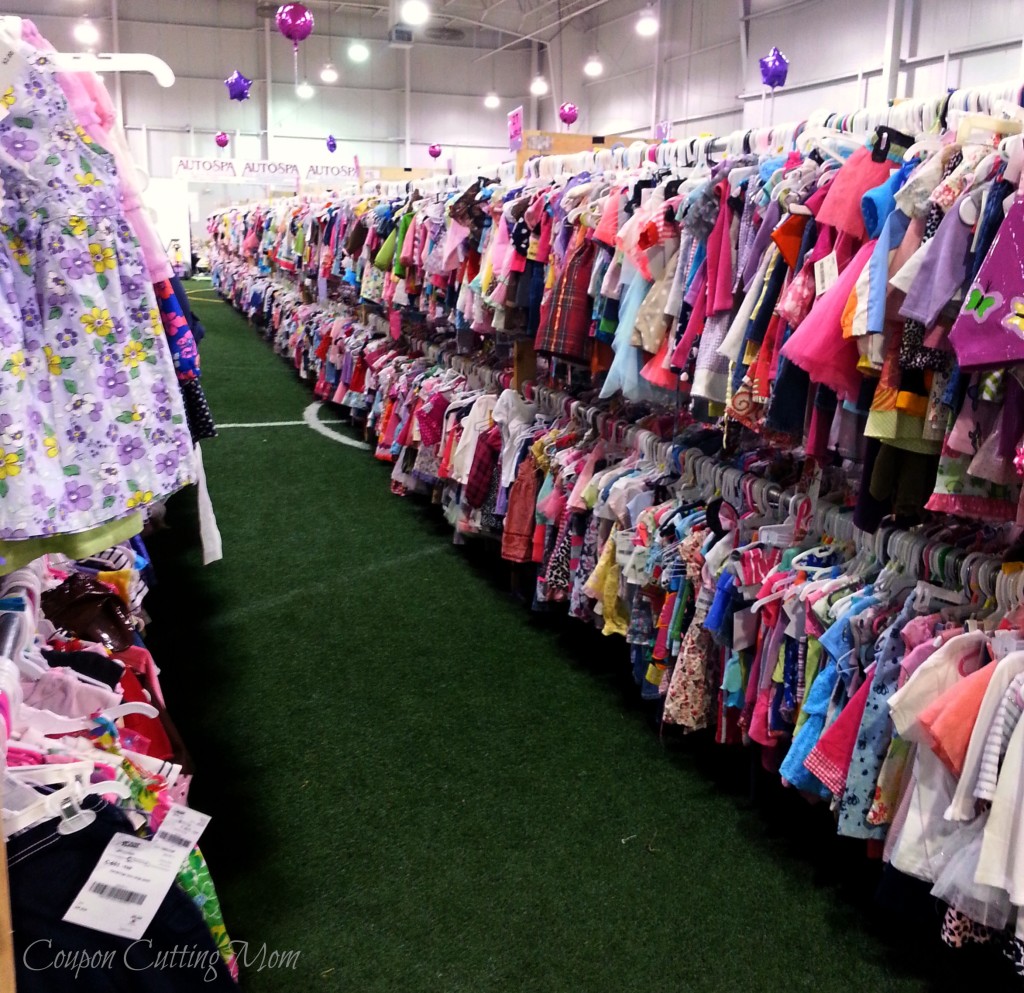 And did I mention rows and rows and rows of quality clothing all organized by gender and size and at a fraction of the cost of new?!
What I Bought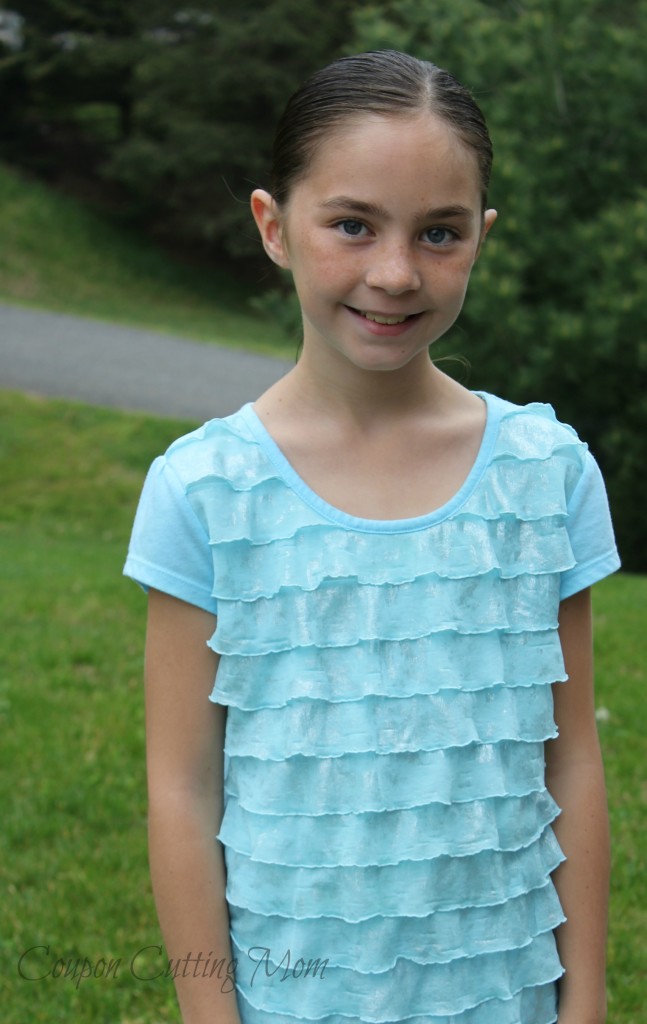 My daughter was excited to try on this blue shimmer shirt when she got home from school. She fell in love with it and didn't want to take it off, and I loved the fact that it cost me only $4!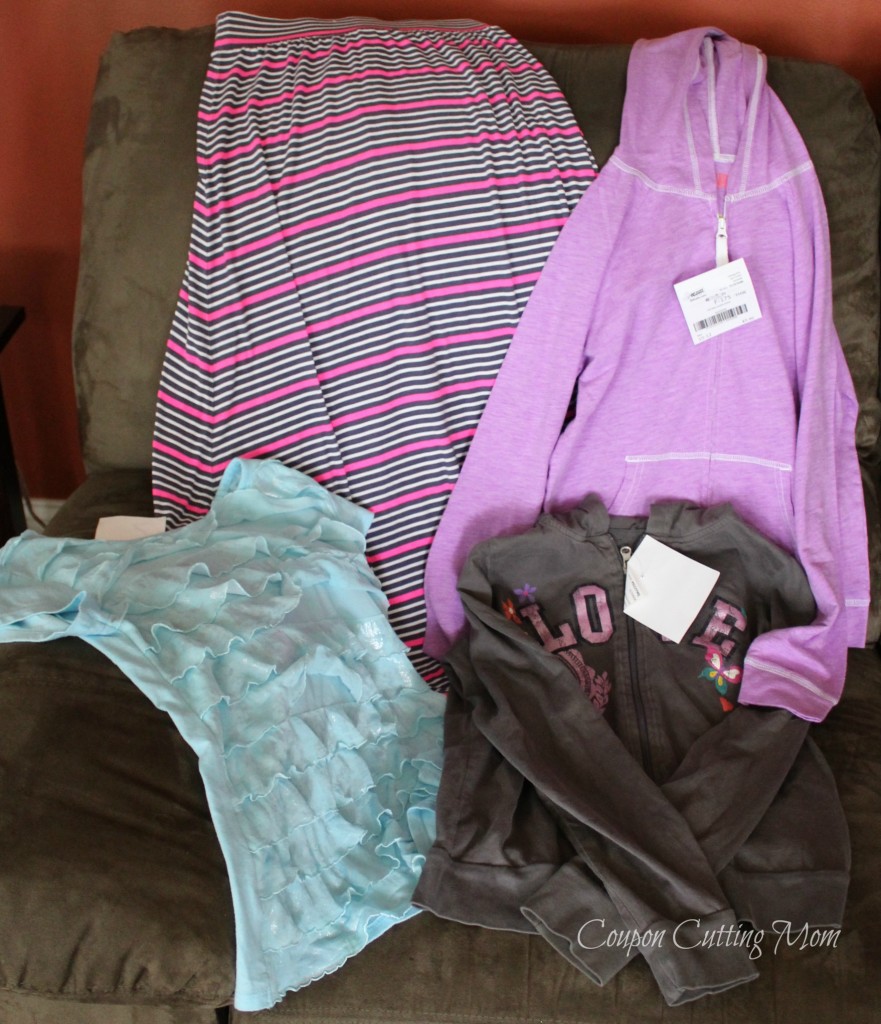 I also bought her a few other clothing pieces that included a maxi skirt that was like new as it was only worn once for $5.50 (where else can you get a good as new skirt for under $6?). When I was making my shopping list before heading to the sale, she told me she needs some new jackets/hoodies, and I was happy I found two of them for her – an Old Navy one for $5 and a Children's Place one for just $3.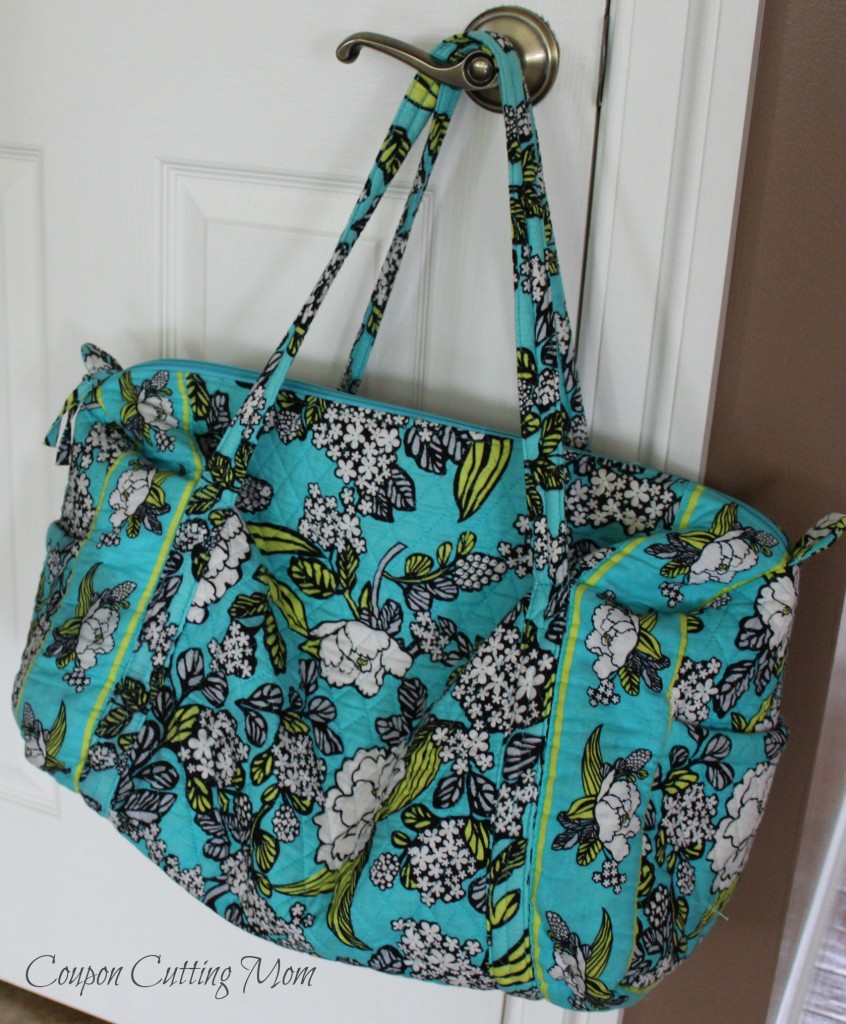 When I saw this super cute overnight travel bag for only $5 I knew that it would be perfect for my 10-year old when she goes to overnight camp this summer or for packing her things for family vacations. And I wasn't mistaken when she saw this bag she squealed and exclaimed how it was so cute and big enough to hold all her things when she packs for nights away.
I also bought some game items that I promptly hid and will pull out when we have a long ride in the car or for those summer afternoons when boredom strikes. My younger daughter loves to read her Pinkalicious book, and I know she will love playing this Pinkalicious DS game that I found for $5. My younger daughter also loves to draw and wants to be an artist when she grows up, so I was excited to find her the LeapFrog Adventure Sketchers game brand new in the box for only $4. I also scored a Wii Littlest Pet Shop game for $4.50 (compare this price to the current Amazon price) and a brand new Hot Dots Math for $8.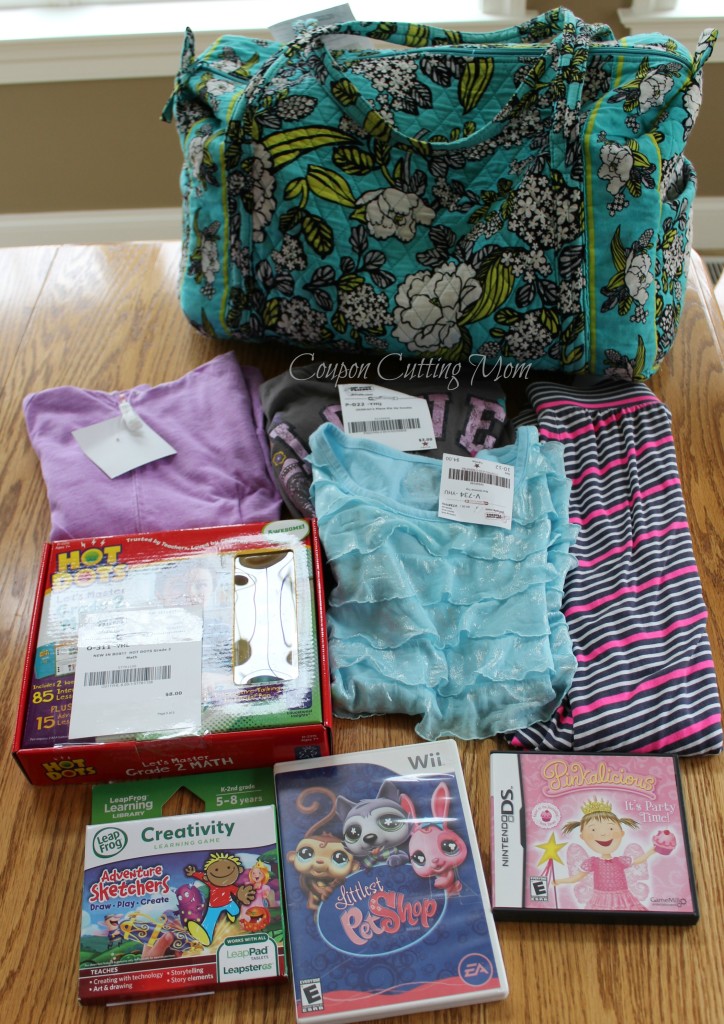 Here is a picture of all the items I purchased and my total bill at the register came to only $44!
If you are ready to shop name brand kid and baby products at bargain prices, then you will want to head over to the Just Between Friends Reading sale. This sale is held at Body Zone Sports and Wellness Complex, which is conveniently located just off of Route 222, north of the city of Reading at 3103 Paper Mill Road, Wyomissing 19610 and runs through April 30. If you are planning to shop on April 28, be sure to show the above image and score FREE admission at the door (you can just show the greeter this image on your phone). Complete sale info on shopping times, 50% off sale day and more can be found here.
Also, be sure to follow Just Between Friends – Reading on Facebook, Twitter and Instagram to stay up to date on all news, promotions and offers.