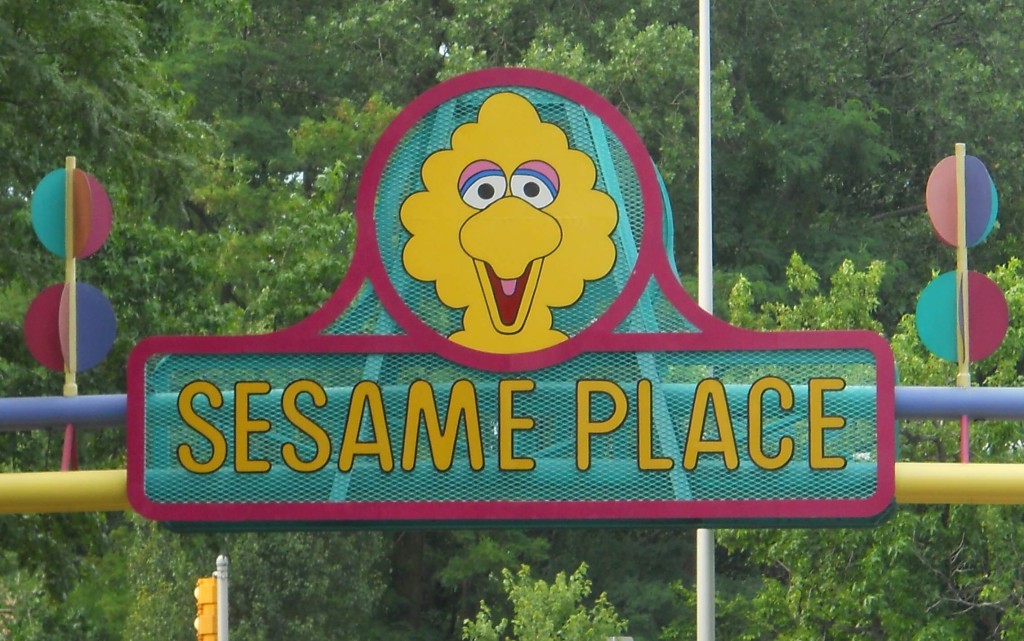 Last week Coupon Cutting Mom, her husband and 2 kids ages 3 and 6 years old were invited to visit Sesame Place in Langhorne, Pa.. It was the first visit for all of us, but based on the amount of fun we had it likely wasn't our last visit.
Sesame Place is conveniently located 30 minutes north of Philadelphia, Pa and 90 minutes south of New York City. It was very easy to find as it is located only minutes off of the Pennsylvania Turnpike.
We arrived shortly before the park opened at 10 am and found parking directly across the road from the entrance. We paid $15 for general parking. There was also VIP and Preferred parking for $30 and $18. Our parking spot in the general parking area was only a hop and a skip from the entrance.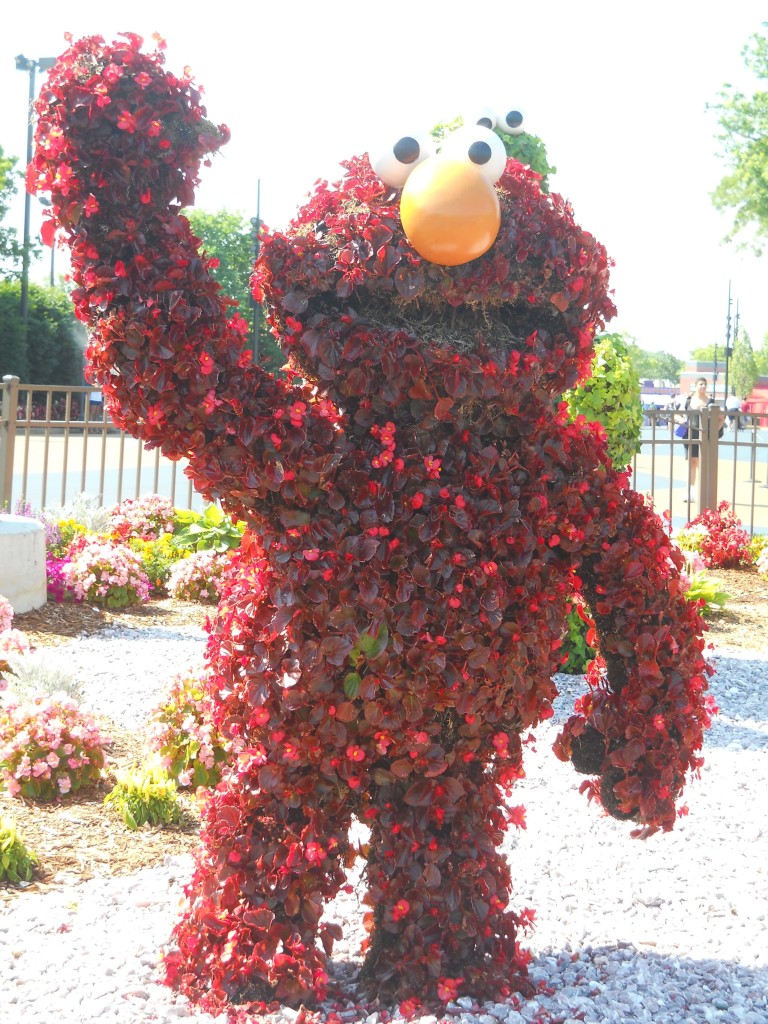 Most amusement parks that we have been to don't allow any snacks or drinks to be brought into the park, but here is what I really loved about Sesame Place: they allow you to bring in a cooler no larger than 10″x10″x12″. The day we visited was a hot one with temperatures in the mid 90s, so froze lots of water bottles the night before and filled our cooler with the frozen drink and also snacks. This way we were able to stay hydrated without breaking our wallet.
Our 7 year old niece also was also with us and her admission price was just $57.99 plus tax. Admission price is the same for all ages except children 23 months and younger are free. When you purchase your ticket you actually get a 2-Day Ticket! This gives you a second visit to the park for FREE and the good part is that the second day does not have to be consecutive and may be used on any regular scheduled operating day during the current season. How cool is that?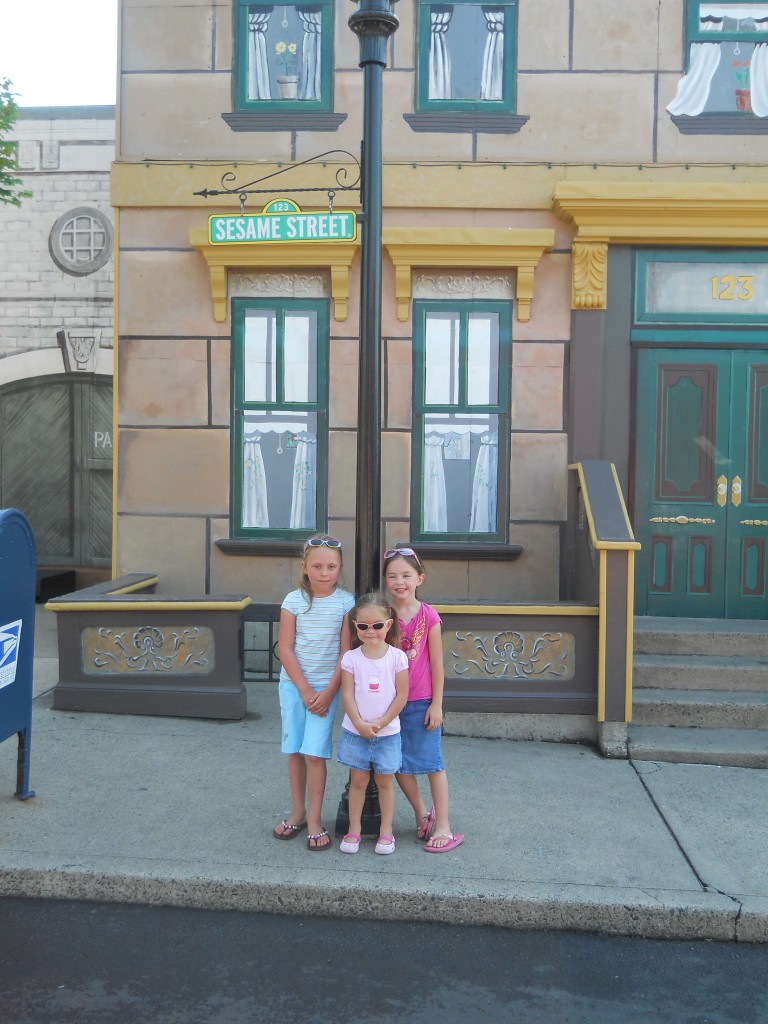 After we got in the park, we rented a locker for $19 and at the end of the day we received $4 back when we returned the key. It was nice having a locker to keep our cooler, snacks, sunscreen, swimwear etc. in.
The kids were eager to start riding all the rides. We started out with the Vapor Trail, the largest dry ride at the park. My 3 year old was so excited to be able to ride this one, as it was her first real roller coaster experience. Any other park she had been to she didn't meet the height requirements for the fun, big rides. But on this ride if you are 3 years old, 44″ and with an adult you can experience a real roller coaster ride.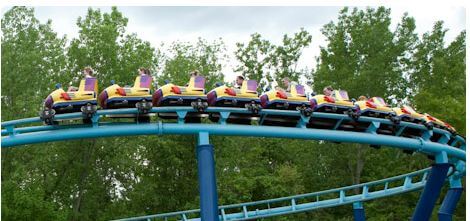 Photo courtesy of Sesame Place
After that ride, we enjoyed Blast Off, Sunny Day Carousel, Ernie's Bounce Bed, and Elmo's Cloud Chaser to name a few.
The favorite dry attraction for my husband and 6 year old was the Net's 'n' Climb. This is a three story high structure, with hundreds of yards of cargo netting connected by 200 feet of suspended net tunnels.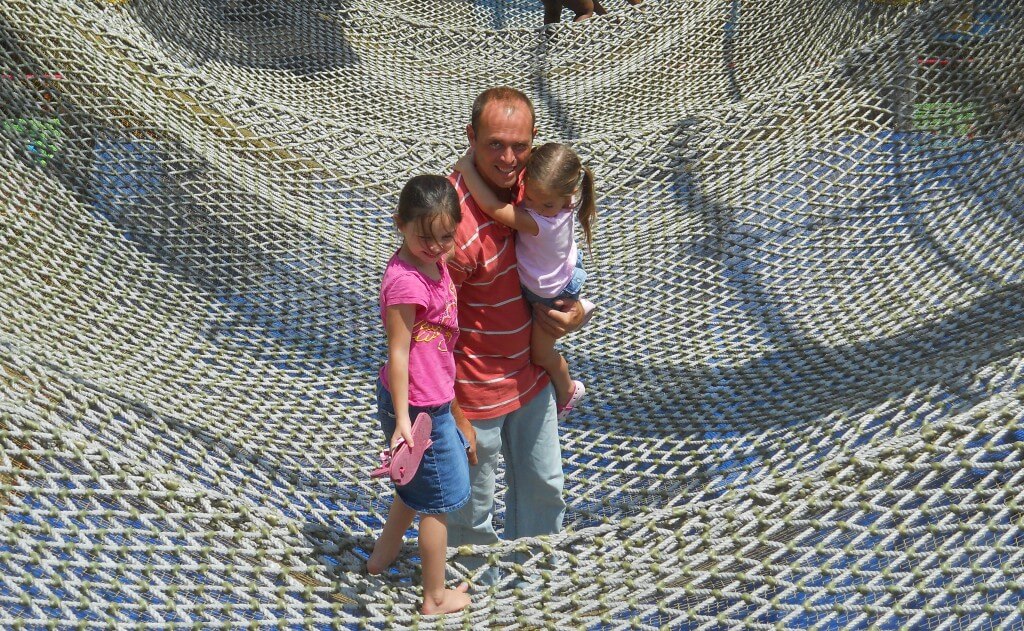 After all this fun we were hungry and headed for Elmo's Eatery where we shared 2 pizza meals consisting of pizza, fries and a drink for $9.99 each. It was good to sit down and enjoy some food in the cool.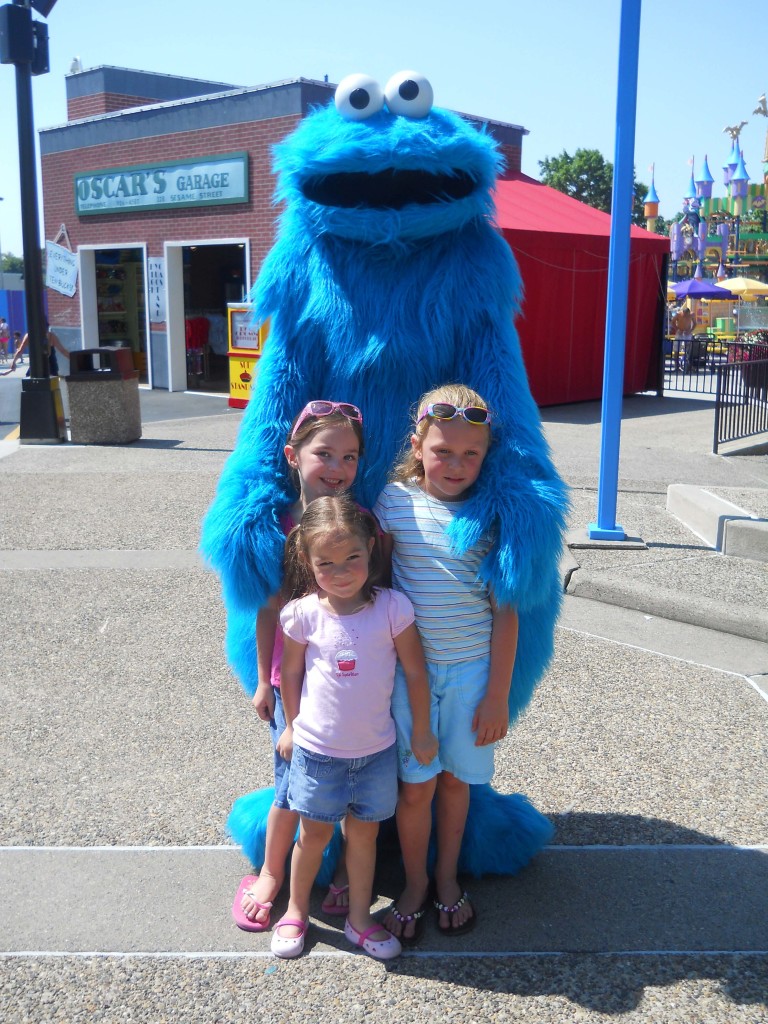 After lunch came the best part – the water attractions. Our favorite wet ride was Sky Splash. This wild ride is more than 6 stories high, and include slides, thrills, twists and turns and a final plunge down to the bottom. The large raft for this ride holds up to 6 riders so we could all ride together, making it 5 times the fun. Life vests are supplied at each water ride for younger riders.
My 3 year old surprised me when we ask her which water attraction was her favorite, she couldn't decided between the two biggest water rides there. The next most favorite water attraction was Sesame Streak. This was the ride she begged to go on again and again and I must admit it was lots of fun. I think she loved the twisting and turning through the dark tunnels and then flying out into the light and the pool at the bottom.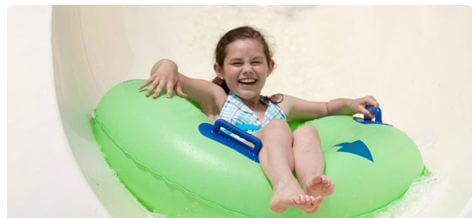 Photo courtesy of Sesame Place
We also loved Big Bird's Rambling River, Slippery Slopes, and The Count's Splash Castle. The kids spent over an hour playing in the Splash Castle. There were so many things to do here including multiple water slides, valves, levers, water curtains, bridges, hydro blasters, bubbler jets, bongos, hose jets, water wheels and much more. Watch out for the 1,000-gallon, 8-ft. tipping bucket!
There were also 3 daily shows, Elmo Rocks, Elmo's World Live and Let's Play Together. Also 2 times daily, is the Neighborhood Street Party Parade. This parade is held on Sesame Street and includes larger than life floats.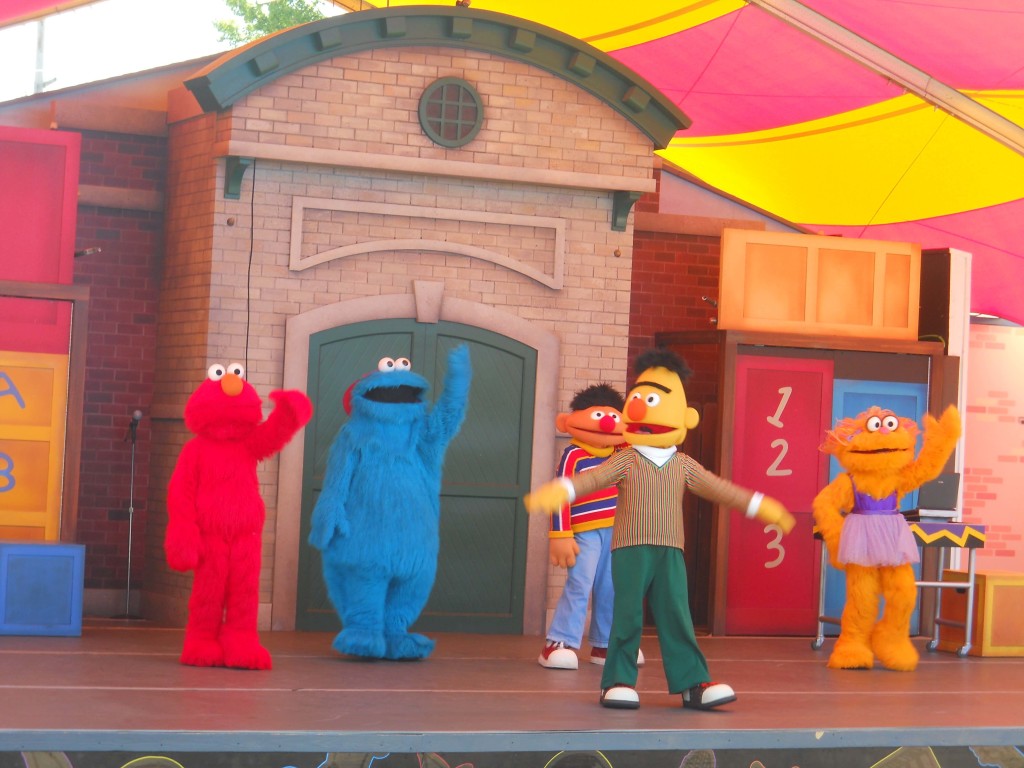 We loved that Sesame Place was fairly easy to navigate and not to large that we felt like we were walking our legs off. Sesame Street is the main street through the park and all attractions are located along this street.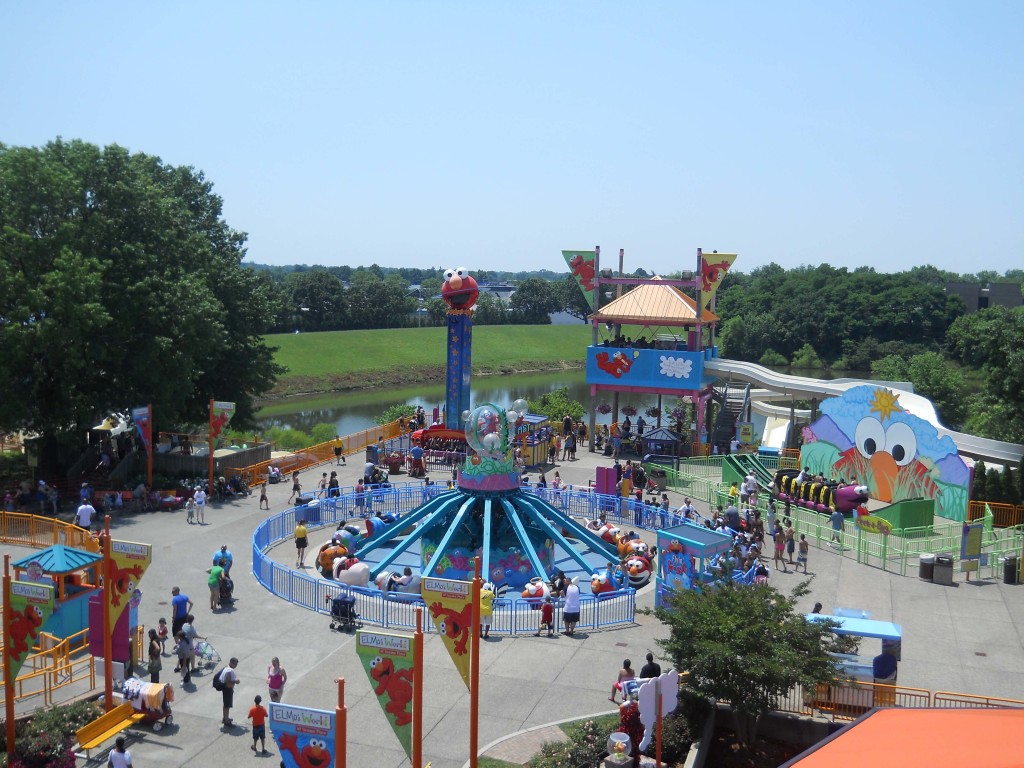 Here are some tips I would suggest when visiting the park.
Bring plenty of sunscreen.
Looking to save a few $ on food. Pack a cooler and leave it in the car as there are picnic areas outside the park for you to use. Don't forget to bring your small cooler along inside the park to save on drink and snack purchases.
Bring flip flops or water shoes as the pavement gets very hot and you will burn your feet if you try to walk barefoot between the water rides. There are shoe cubicles at each water ride. Wearing flip flops will make it very easy to slip in and out your shoes.
Consider wearing your swimsuit to the park, under a comfortable cover up as we didn't find any changing rooms and needed to change in the restrooms. Swim wear is allowed in all parts of the park so no changing required for the dry rides.
Thanks, Sesame Place for the wonderul time. We made lots of great memories and hope to be back soon again.