My sweet tooth was very happy recently when I got to do this cupcake review. These were not just any cupcakes, they were Scratch Cupcakes! And let me start out by saying for the sake of my waistline, I'm very glad I don't live next door to Scratch Cupcakes as I would be tempted to stop and buy cupcakes way too often. Just thinking about these beautiful and delicious cupcakes has my mouth watering.
Scratch Cupcakes has two store locations in Pennsylvania one in Lititz and their brand new location in Ephrata. Of course as the name suggests, these cupcakes are made from scratch using the finest ingredients, including sweet cream butter, pure vanilla, real strawberries and natural citrus zests.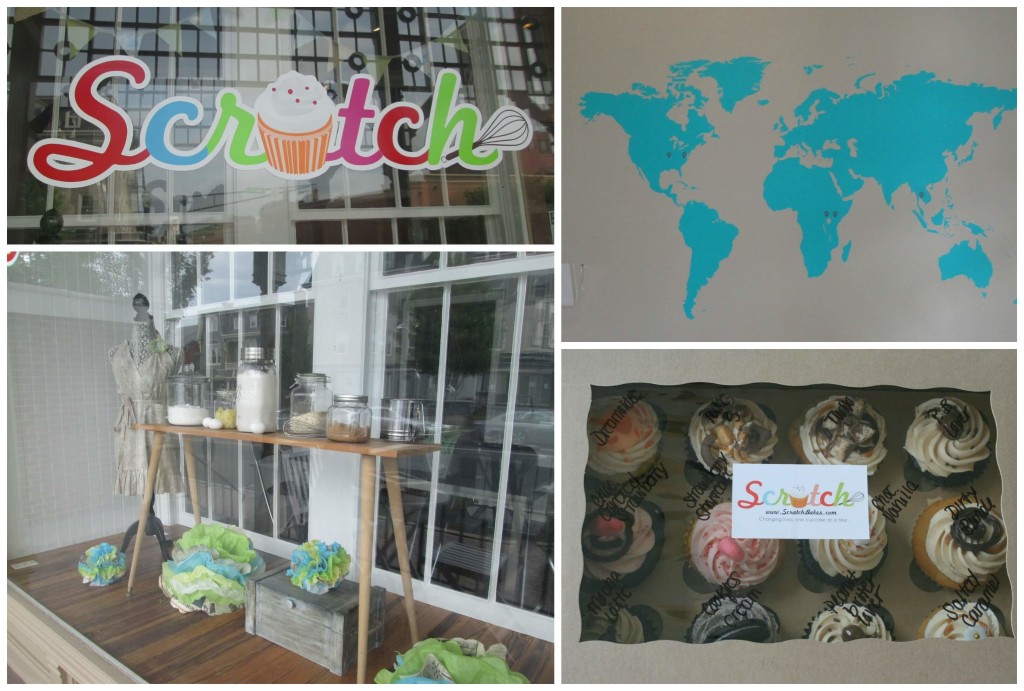 Laura, the lady who owns Scratch Cupcakes is so sweet and amazing. After talking with her online and reading on the Scratch page, I realized she has a heart of gold. Not only is she a mom and wife who makes a conscience effort to put her family ahead of work but she also a huge heart for service and missions. Her logo includes the following phrase, Changing Lives, One Cupcake at a Time. And she really is making a difference with her cupcakes, as a portion from all cupcake sales goes to non-profit organizations she supports. So, when you purchase these cupcakes you are not only supporting a local business but you are helping to change lives. How neat is that?!
I visited the Ephrata location that has just recently opened right along Main Street. To help locate the store, watch for the big window area decorated with a table of baking supplies including a canister of flour, eggs, a whisk and more. I loved the warm tan and aqua colors found inside the store. If you would like to sit and enjoy your cupcakes on site, there are tables and chairs both indoors and outdoors where you can enjoy you sweet treats. At this location there is a large world missions map on the one wall with little pins pointing to each mission that Scratch helps to support. This gives customers a great visual of who they are helping when they purchase cupcakes.
Picking out a dozen of these Scratch Cupcakes was not an easy task as there were so many great options available the day I stopped out. There are Everyday Flavors that are offered daily and then also monthly Specialty Flavors. If you have a furry four legged friend be sure to check out the PupCups, a dog friendly biscuit cupcake. My selection of cupcakes included everything from Salted Carmel to Cookie Dough and Dirty Blonde to Take 5 Cake.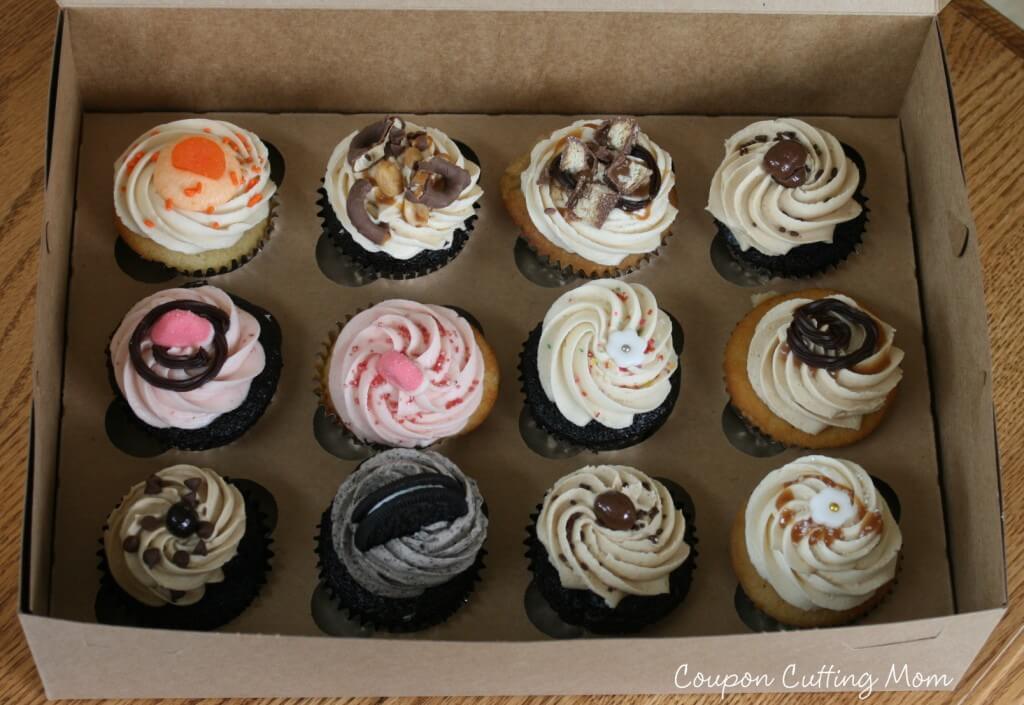 On my first bite into these cupcakes, I was sold. These cupcakes are super moist and I think that makes them superior to other cupcakes. The moist cake is then topped with fluffy buttercream icing. I loved the little touches like chocolate covered peanuts, fondant flowers, candy pieces, and sprinkles the cupcakes were topped with.
My top 3 favorites from the cupcakes I tasted were the Dreamsicle, Peanut Butter Lover, and Chocolate Covered Strawberry. The Dreamsicle is a moist orange cake with butter cream and orange cream topping. And peanut butter and chocolate is that not the perfect combo? This cupcake has a chocolate cake that is topped with a fluffy peanut butter buttercream. And the Chocolate Covered Strawberry cupcake tasted just like the name suggests, a chocolate covered strawberry. I think the fresh buttercream topping on this cupcake added the perfect strawberry flavor.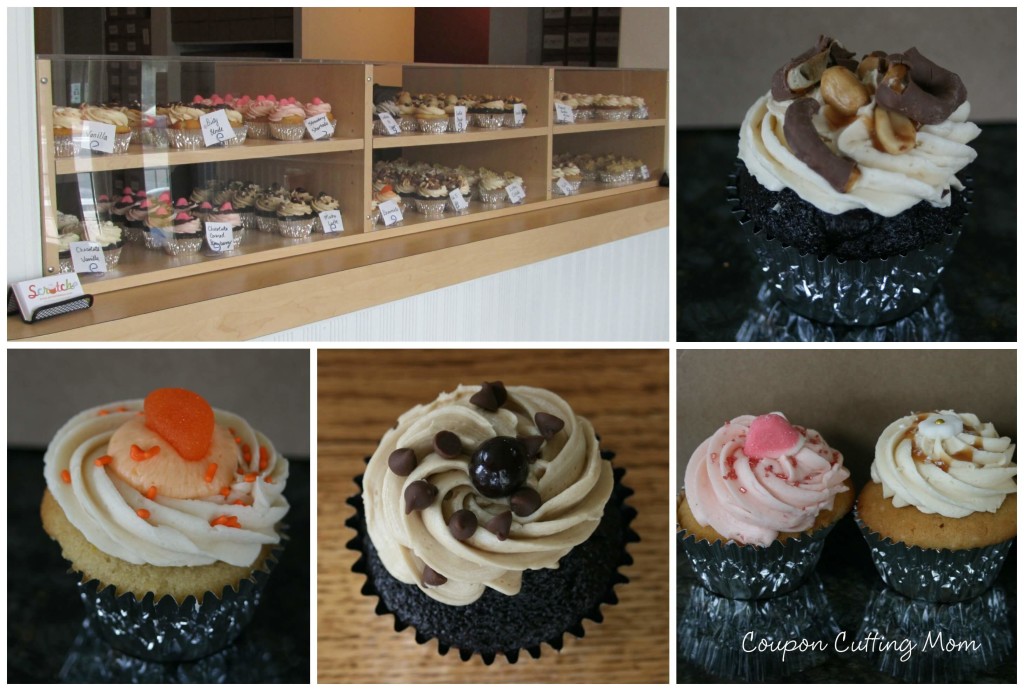 The next time you are craving a cupcake, let me highly recommend you consider satisfying that crave with a Scratch Cupcake. These cupcakes are also perfect for any special occasion: weddings, birthday parties, baby showers or any party you are hosting. Be sure to follow Scratch Cupcakes on Facebook and Twitter to stay up to date on all the current flavors and promotions.
Now for the exciting part, thanks to Scratch Cupcakes, a lucky Coupon Cutting Mom reader will win a Scratch Cupcake gift certificate valid for 1 dozen cupcakes ($24 value). The certificate can be used at either the Ephrata or Lititz location. This giveaway is open to US residents only and will end on August 29, 2013.
How do you enter to win?
On the Giveaway Tool form below, simply complete as many entries as you would like. Please note that ALL entries are validated prior to winner selection, so do make sure that you fully complete each entry.
Good Luck!
.
Coupon Cutting Mom received one or more of the products mentioned above free for evaluation purposes. Regardless, all opinions expressed are still 100% my own.