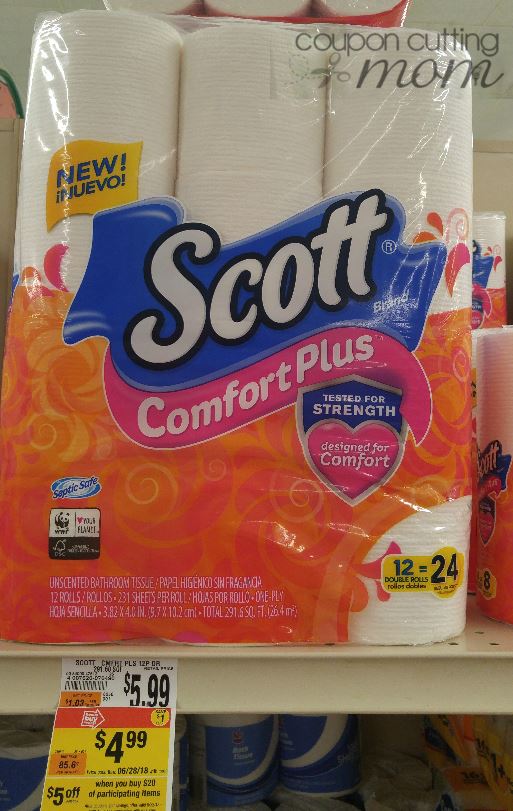 Scott Comfort Plus Bath Tissue ONLY $2.82 Per Pack – Regular Price $5.99
The bath tissue was getting dangerously low at our house, and I knew it was high time I find a deal on some tissue and stock up again. Thanks to a Giant sale and instant savings this is the week to buy bath tissue. You will pay only $2.28 per 12 double rolls or just $0.008 per square foot. Bath tissue can be on of those items that are rather tricky to figure out if it is a good deal or not due to various roll sizes etc. so I prefer to figure the price per square foot and like to stock up whenever the price is $0.01 per square foot or less.
Through 6/28, at Giant, the Scott Comfort Plus bath tissue is on sale for $4.99 and is also included in the save $5 instantly when you spend $20 or more. For my deal, I bought four Scott packs and then added in a pack of Kleenex wipes to get to the $20 amount.
Here is the Scott deal at Giant: (good through 6/28)
Buy 4 Scott Comfort Plus Bath Tissue – 12 pack, $4.99 each
Buy 1 Kleenex Wipes – 20 count, $1.33 
= $21.29
Use 4 $0.50/1 Scott Bath Tissue coupons from the 6/10 SS
Or use $0.50/1 Scott Bath Tissue printable coupons
Use $1/1 Kleenex Wipes coupon from the 6/10 SS
– $5.00 Instant Savings
Pay $2.82 each + free pack of Kleenex wipes!
See all this week's Giant deals HERE.