This post was sponsored by RITZ as part of an Influencer Activation for Influence Central and all opinions expressed in my post are my own.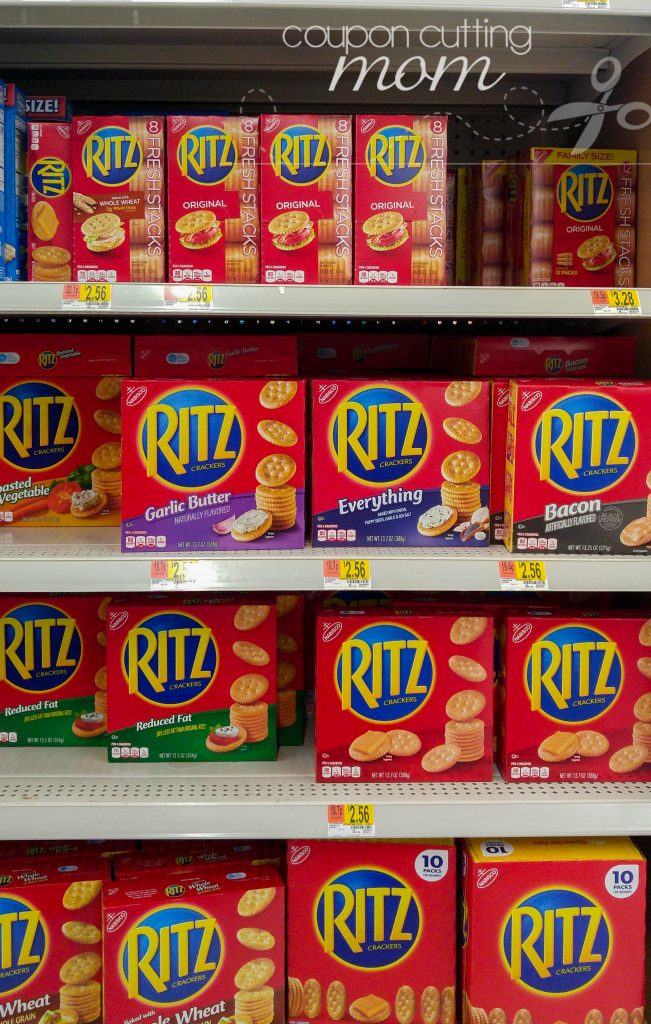 Save on RITZ Crackers with Ibotta + Walmart Gift Card Giveaway
When I was a kid my grandparents lived only five minutes away and I have many fond memories of time spent at their place helping them work on their farm, mowing their yard, playing with cousins, swinging on the rope swing in the big old tree, time spent in the kitchen with grandma and so much more.
RITZ Crackers always make me think of my grandpa as when I was at their house I would help my grandma prepare his favorite snack – marshmallow peanut butter cracker sandwiches. We would spread the peanut butter and marshmallow cream around on the RITZ Crackers and then put them together to make sandwiches. I still remember the aqua colored Tupperware container that she used to store these cracker sandwiches in too.
Sadly neither of my grandparents are with us anymore, and now I rarely make the marshmallow peanut butter cracker sandwiches, but I do love to keep RITZ Crackers in my pantry. These crackers are a staple item and can be used in so many ways in everything from packing them with meat and cheese in the kid's school lunches to an ingredient in our favorite chicken dishes for dinner. There is also nothing like dipping a Ritz cracker into a hot cream cheese dip or cheese ball! Yum!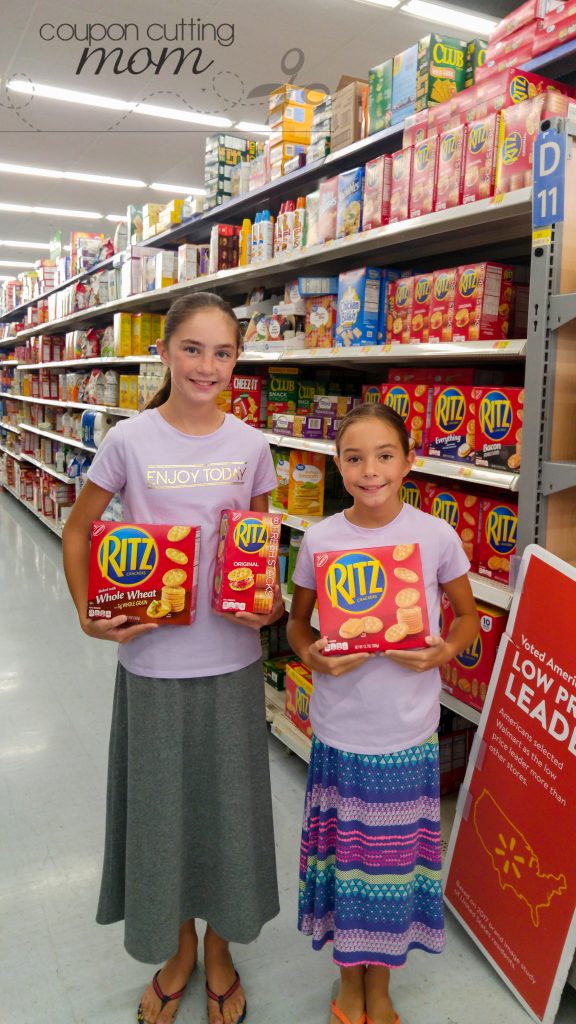 Are RITZ Crackers a favorite at your household too? I'm excited to bring you this easy way to save money on your next RITZ Cracker purchase! Right now thanks to the Ibotta app you can get $0.75 cash back on your RITZ Cracker purchase at Walmart.
I love saving money when I'm shopping for items on my grocery list. One of my favorite ways to save is by using the Ibotta app as it gives me cash back for things I purchase. Redeeming the RITZ Cracker offer is very easy. Be sure to have the Ibotta app downloaded to your phone. Then after purchasing the crackers, scan your Walmart receipt and the product barcode into the app, and within 24 hours you will have your money added into your account.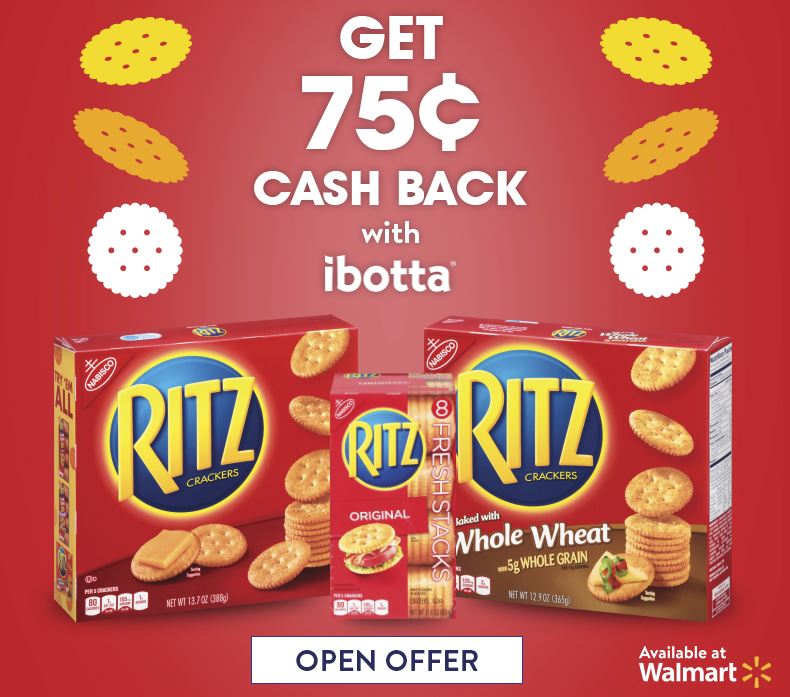 With the Ibotta RITZ Cracker offer, there are two separate offers, and each one can be redeemed up to five times in a single transaction which makes this a great time to stock the pantry with crackers! Offer number one is good on the Classic Crackers and includes these flavors and sizes:
RITZ Original Classic Crackers 13.7oz
RITZ Whole Wheat Classic Crackers 12.9oz
RITZ Honey Wheat with Whole Grain Crackers 13.7oz
RITZ Reduced Fat Classic Crackers 12.5oz
RITZ Hint of Salt Crackers 13.7oz
RITZ Bacon Flavored Crackers 13.25oz
RITZ Roasted Vegetable Crackers 13.3oz
RITZ Garlic Butter Crackers 13.7oz
RITZ Everything Crackers 13.7oz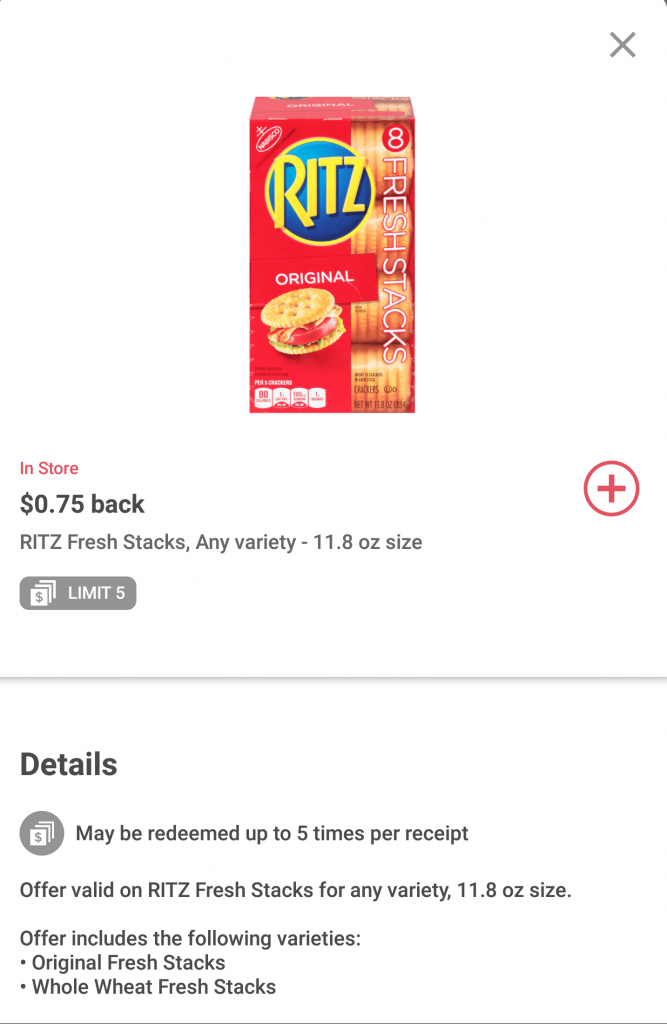 Offer number two is for the RITZ Fresh stacks and includes both the Orginal Fresh Stacks Crackers and the Whole Wheat Fresh Stacks Crackers both in the 11.8-ounce size.
Walmart Gift Card Giveaway
To celebrate this RITZ Cracker Ibotta offer, Walmart and RITZ paired up to bring you the chance to win Walmart gift cards. Who couldn't use a $50 Walmart gift card?! Six winners will be taking home a $50 gift card, and the grand prize winner is getting a $200 Walmart gift card! This giveaway runs through September 25, 2018. Be sure to enter below for your chance to win one of these Walmart gift cards.
RITZ Crackers at Walmart Sweepstakes

I-C will randomly select winners from all program entries and will facilitate fulfillment of the 7 winning prizes.