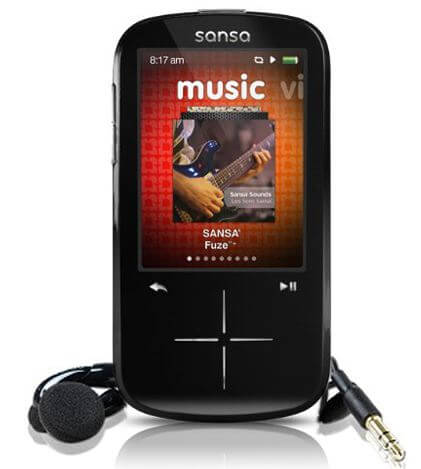 This SanDisk Sansa Fuze 8GB MP3 Player is priced at only $27.99 (reg. price $89.99). Shipping is free!
Capacitive touch controls provide an intuitive graphic interface for the Fuze+ MP3 Player. The 2.4-inch LCD screen can display album art and play back video and photos. Store up to 2,000 songs on the internal 8GB memory or use the microSD card slot for up to 32GB of additional memory.
On a full charge, the built-in battery provides 24 hours of audio playback or 5 hours of video. A digital FM tuner with recording capability and 40 station presets lets you tune into your favorite FM stations. Ready for slotRadio & slotMusic memory cards, the slot memory cards have preloaded songs in a variety of genres for your listening pleasure.
Condition: Factory Refurbished
Packaging: White Box
Warranty: 90 Day
Manufacturer: SanDisk
Model: SDMX20R-008GK-A57
Package Includes:
Sansa Fuze+ 8GB MP3 Player, MicroUSB Charger/Transfer Cable and Earphones
Get your SanDisk Sansa Fuze 8GB MP3 Player here. This offer is good 5/18 only.