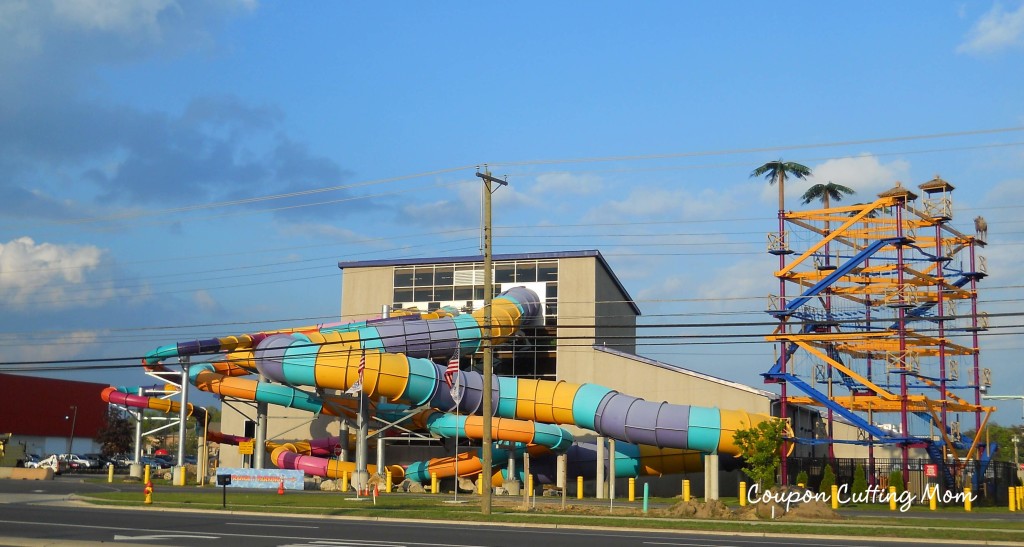 Sahara Sam's Oasis Indoor and Outdoor Water Park is located in New Berlin, New Jersey and is only about 30 minutes from Philadelphia, PA. My family had the chance to visit this fun water attraction last week. In fact, when we found out we were getting to visit we didn't tell the kids. We just packed the swimsuits and towels on the sly and told the kiddos to get in the car. I wish you could have seen the looks of excitement on their faces when we pulled into Sahara Sam's. It was a super way fun to surprise them, and they loved every minute of our time there, and now that we are home again they keep asking when we are going to visit again.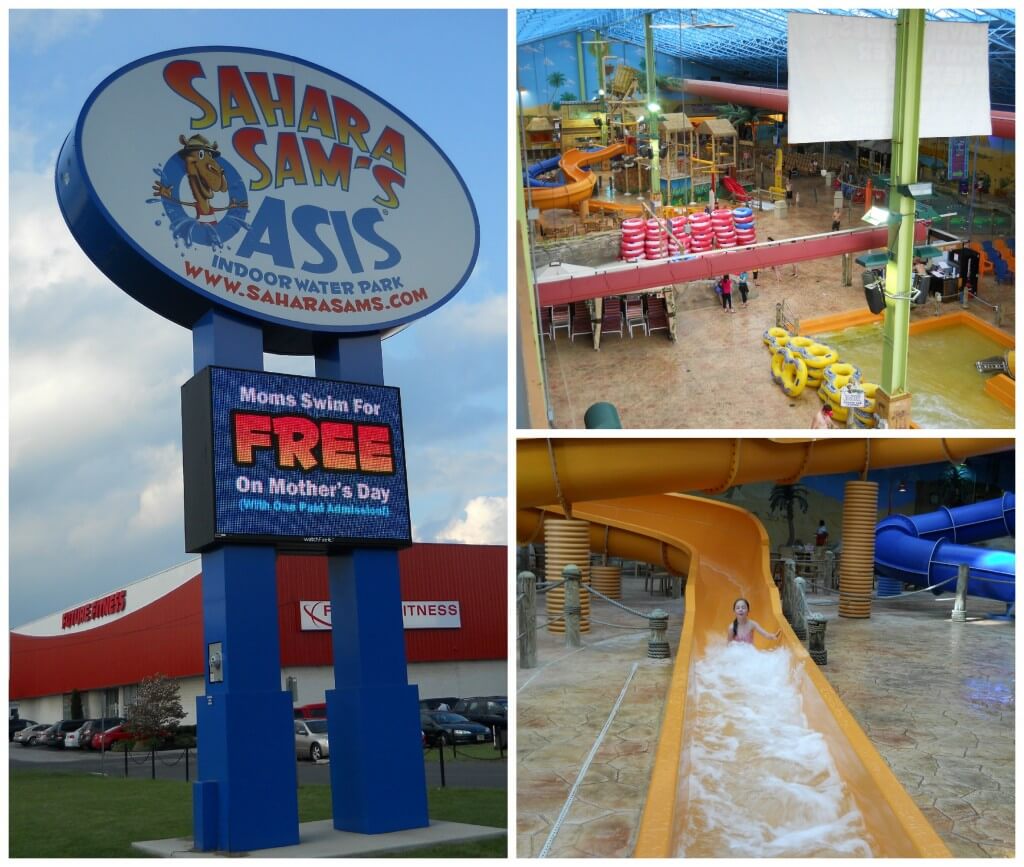 Sahara Sam's features  58,000 square feet of indoor aquatic water rides and attractions. Thanks to a state-of-the-art temperature control system, the water, and air temperature remain at 85° year-round. This system makes this the perfect place to visit in the winter as you can have warm water fun no matter how cold or snowy it is outdoors. I also thought the one-of-a-kind retractable roof was pretty impressive. During the warmer months, this room can open the whole way and lets the sunshine in and gives the feeling of being in the out of doors. Even in the winter months when it is closed, the roof is like one huge window letting in lots of great light.
Now let me tell you about the best part of this attraction – the water rides. There is so much water fun here at Sahara Sam's for the whole family. Here is a description of each of the rides:
THE NILE MILE: At 350 feet in length, The Nile Mile is designed for speed! This ride is a body slide and is so fast it was designed with 50 feet of runway at the end of the adventure just to slow you down! My husband was the only one in our family who did this ride, and he said it was fast!
FLOW RIDER: This is the only indoor FlowRider in New Jersey and is a great place to test your surfing or boogie board skills. You need to be eight years of age to use the FlowRider. We didn't test this one out, but it looked like those who were using it were having a blast in the waves.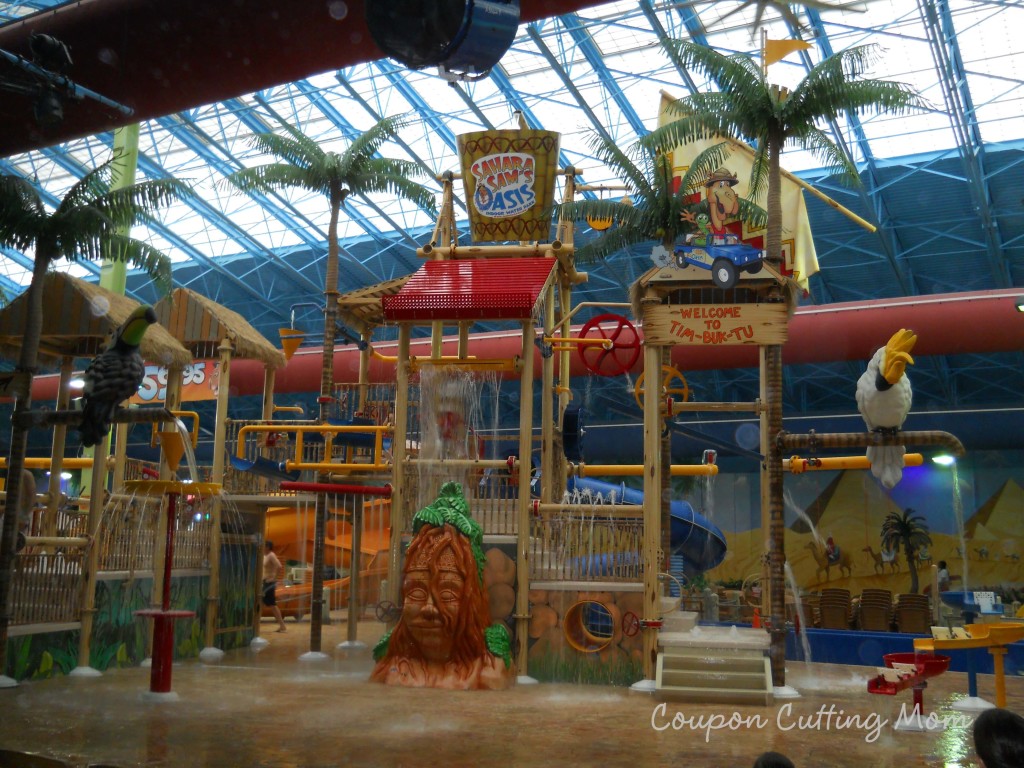 SNAKE EYES: This is two eight-foot wide slide barrels that twist and turn as you roar toward a splash landing at the finish line. You can ride this ride with a single or double tube. This ride was by far our favorite ride, and we did it over and over and over. When it was time to leave, the kids were still begging to ride Snakes Eyes just one more time. You do need to carry your tube to the top of the ride and let me tell you carrying a double rider tube up many flights of steps over and over is a good workout.
MOUNT KILIMANJARO: This is a massive slide large enough for the entire family! At 45 feet above ground, this winding 390-foot family raft will send you spinning and twisting through the darkness until your splash landing at the bottom. This ride was fun as we were able to all ride together.
CONGO BONGO ADVENTURE RIVER: The lazy river spans nearly the entire length of the building and includes waterfalls, geysers, and sprays of water. My 7-year old enjoyed this ride, and we circled numerous times.
TIM-BUK-TU PLAYLAND: This play area is center stage at Sahara Sam's Oasis. This play area is a giant "tree house" fortress complete with slides, water cannons, sprays, and best of all a 1,000-gallon tipping bucket! My kids loved splashing in this area and probably went down the one slide over 20 times!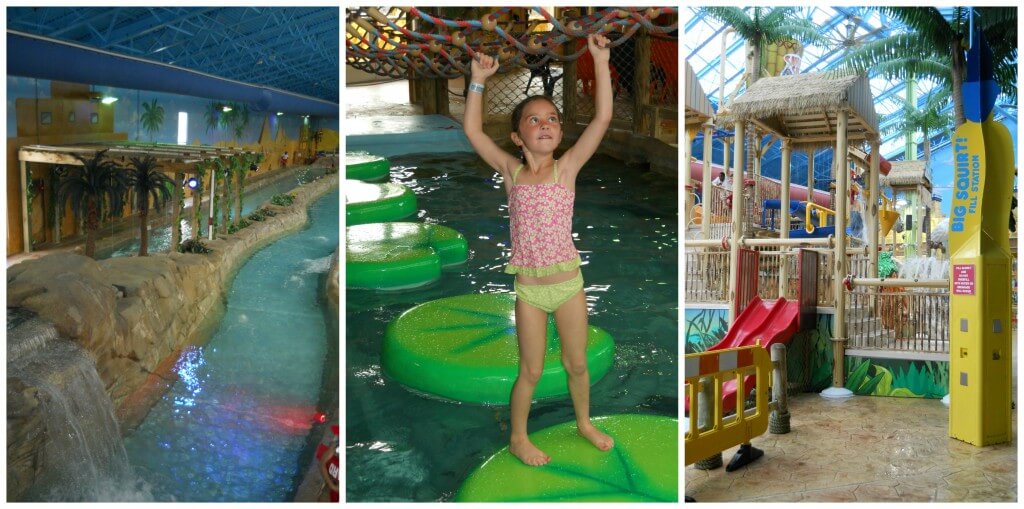 CROCODILE FLATS: Use the cargo net above to balance and cross the pool on this floating, bobbing, spinning path. I lost count of how many times my 7-year old went across on these "pads". She said other than the slides this was her favorite attraction.
THE LIZARD LAGOON: This is a special area with low water depth and is perfect for toddlers to splash and play safely. It includes mini slides, bungee baby swings and more. This lagoon area is a spot we didn't explore as we don't have a toddler anymore, but it did look like a great play area for babies and tots to have some water fun.
There were lifeguards at every ride and water attraction. Not only were they friendly but they also did a great job helping anyone who needed help. Also, life vests were available free of charge. Several areas required that anyone under 42″ wears one.  Locker rental is also available for $5 each. I was also glad to find clean restrooms, nice spacious changing areas and also a great shower area.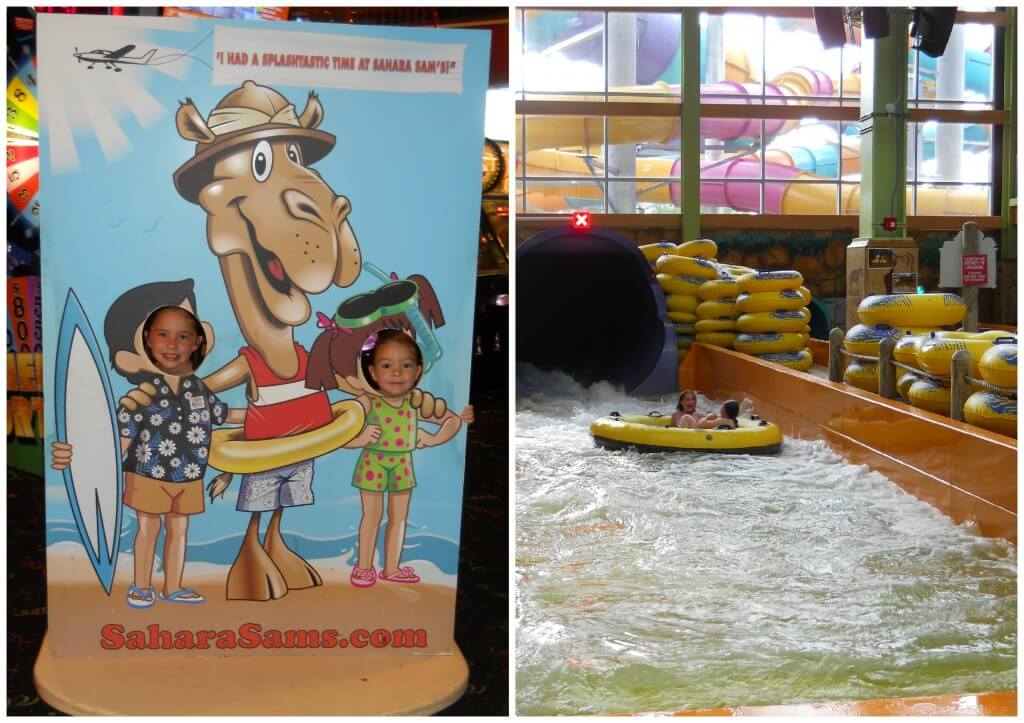 You will find an arcade room after exiting the water area, but we spent all our time in the water and didn't have time to play any games in this area. They are also working on expanding and adding a some great outdoor seasonal attractions. These include a wave pool, splash area and more. The outdoor area will be opening Memorial Day weekend.
Daily admission entry tickets are priced as low as $20.95, and ages 2 and under are free. Follow Sahara Sam's on Facebook and Twitter to stay up to date on all the latest specials and news.
All in all, we had a wonderful family day at Sahara Sam's, and I'm thinking that next winter when the snow is flying, another a visit to Sahara Sam's where it is always 85° would be the perfect thing to beat the winter blues.
Coupon Cutting Mom received one or more of the products mentioned above free for evaluation purposes. Regardless, all opinions expressed are still 100% my own.