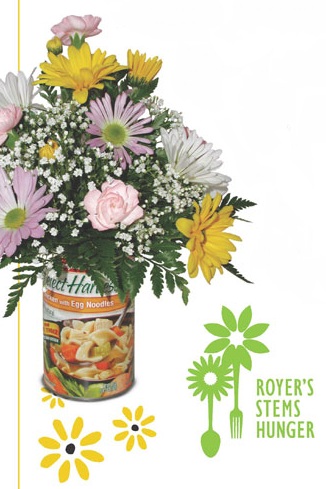 Royer's Stems Hunger on June 23, 2012, head to your local Royer's Flowers for the their second annual canned food drive which will benefit the Central Pennsylvania Food Bank and the Greater Berks Food Bank.
To kick off this event kids get to make a flower arrangement – in an empty food can (be sure to bring along an empty can for your arrangement). The price of admission is a canned food item. Call your nearest store to reserve your slot at 10 a.m., 2 p.m. or 3 p.m.
This is a great way to teach your kids about donating food to the less fortunate. Head to your pantry and find some canned items to donate. Consider taking a more than 1 can, I'm sure the food bank always has a need for canned items. The flower arrangement that my kids got to make last time at a similar event at Royer's was very pretty. If you don't have plans on Saturday take your kids, they will enjoy it, you will help out the food bank and also get some fresh flowers to bring home.
Find your nearest Royer's store and telephone number to call to make your reservation.