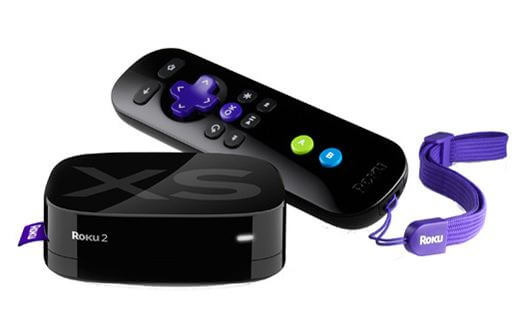 This Roku 2 XD Streaming Video Player with Wi-Fi, 300+ Channels & Full 1080p HD Video Capability is priced at only $39.99! The regular price for this device is $79.99. Shipping is free!
Roku is the best selling streaming player ever! It's a sleek little box that allows you to instantly stream tons of entertainment on your TV. Watch over 100,000 movies and TV shows from Netflix, Amazon Instant Video, Hulu Plus and more. Listen to music on Pandora, or listen to your own iTunes playlists. Watch major sports, news, or original Internet programming. It's all available whenever you want it!
The Roku 2 XD sets a new standard with 1080p streaming video and HDMI video output for high-definition. It's also really easy to install. It works with almost any TV, and you can have it up and running in a few minutes. The best part is – you don't need to have a PC! Roku wirelessly connects to your high speed internet connection all by itself.  Also included is a remote control and a microSD memory card slot provides extra storage for channels.
Condition: Factory Refurbished
Packaging: Brown Box
Warranty: 90 Day
Manufacturer: Roku
Model: Roku 2 XS
Features Include:
Wirelessly streams HD video and music onto your television
1080p HD video capable
WiFi 802.11 wireless b/g/n
Works with almost any TV
Easy 5-15 minute setup
Streams Netflix, Hulu Plus, Pandora, Amazon Instant Video and more onto your TV (subscription required)
Over 100,000 movies and TV shows, sports channels, music and more
The Roku 2 XD can stream from the biggest selection of live sports packages ever, including NBA, NHL, MLS, UFC, MLB and more
300+ entertainment channels
Compact, powerful design
Enhanced remote
No computer needed
HDMI port, Composite A/V mini-jack, MicroSD port
Dimensions (Width x Height x Depth): 3.3 x 0.9 x 3.3"
Weight: 3 oz.
High speed internet connection required, not all content may be available in HD or 1080p
The Roku uses less than two watts when you're watching a movie
Package Includes:
Roku, Remote with 2x AA Batteries, A/V Cable, AC Power Adapter
Get your Roku 2 XD here as this deal is good 11/2 only.