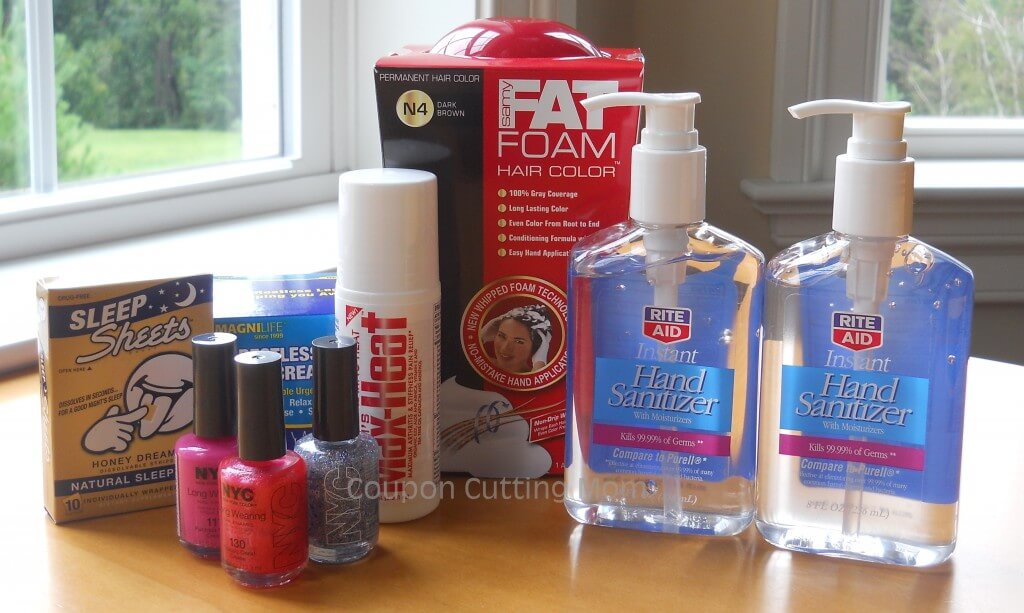 These items have a shelf price of $52.41 at Rite Aid but after sales, coupons and Up Rewards this was a $6.34 moneymaker!
Here is how I scored these deals:
Bought 1 Samy Fat Foam Hair Color $8.99
Bought 1 Max Freeze or Max Heat Pain Relievers $7.00
Bought 1 MagniLife Restless Legs Cream $11.00
Bought 1 Sleep Sheets Honey Dreams Sleep Aid 10 ct. $5.00
Bought 2 Rite Aid Hand Sanitizer 8 oz. $1.00 each
Bought 3 NYC Nail Color $0.99 each (these rang up $0.89 each with my discount)
Used the $5/1 Samy Fat Foam Hair Color printable
Used the $6/1 Samy Rite Aid in ad coupon
Used a $2/1 Max Freeze coupon I had receive from a previous Maz Freeze purchase
Used the $2/1 MagniLife coupon from the August Video Values
Paid $21.66
Received $7 MaxFreeze Up Reward
Received $11 MagniLife Up Reward
Received $5 Sleep Sheet Up Reward
Received $2 Hand Sanitizer Up Reward
Received $3 Nail Enamal Up Reward
Final price FREE + $6.34 moneymaker!
Note, I was expecting the Samy coupons to only come off at $8.99, not a total of $11. Depending on your cashier, you will only get $8.99 off, and the moneymaker won't be as great then.