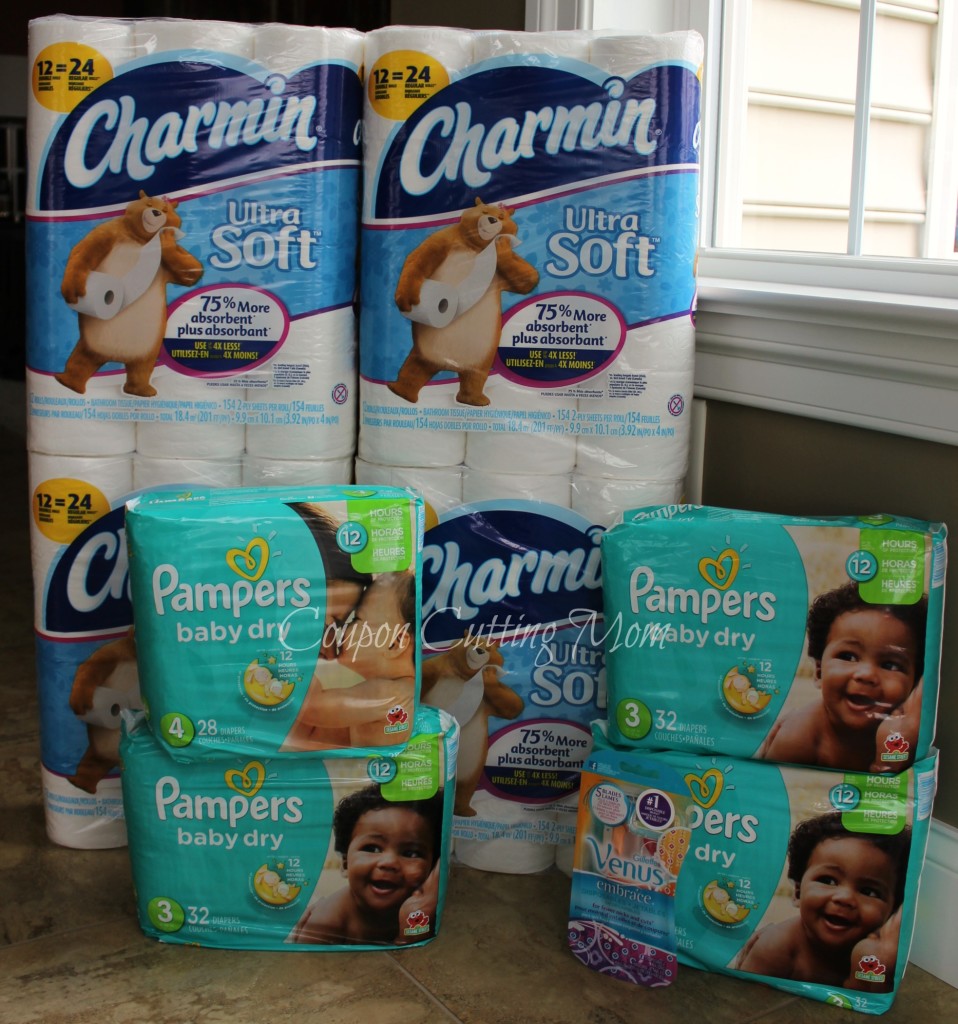 Rite Aid: $102.00 Worth of Pampers and Charmin Bath Tissue ONLY $14.97
The items pictured above are from my Rite Aid shopping trip. I needed to restock my bath tissue supply as it is on the low side. I also have several nieces and nephews in diapers, and I like to keep an eye out for diaper deals for them. When I saw the deals I could score this week at Rite Aid, I knew that I needed to get a shopping trip planned. Shelf price for these items was $102.16 but after coupons and sales I paid $54.97 and then earned 4000 Plenti Points which equal $40.00. Figuring all the savings in and that means these items cost me only $14.97!
Have I mentioned recently that I love Plenti Points? Every week, Rite Aid has selected items that when purchased will earn you points. 100 Plenti Points equals $1.00. The points are accumulated and stored on your card. When your card is scanned at checkout, you can select to pay with points you previously earned. The best thing is the points are good for two years!
Here is a breakdown of my purchases at Rite Aid: (prices good through 1/2)
Buy 4 Pampers Diapers Jumbo Packs, 18 – 40 ct: $9.00 each
Use 4 $2/1 Pampers printable coupons (use zip 77477)
Pay $28.00
Recieve 1000 Plenti Points (500 points for 2 packs, limit 2 sets of 500 Plenti Points)
Receive 1000 Plenti Points for spending $30.00 on select items
Final price $8.00 or ONLY $2.00 per pack!
Buy 4 Charmin Bath Tissue, 12 rolls: $12.99 Buy 1 Get 1 FREE
Buy 1 Gillette Disposable Razor Pack: $7.99
Use 2 $1/1 Charmin printable coupon
Use 2 $1/2 Charmin Bath Tissue coupons from Rite Aid insert found in 12/27 Sunday paper
Use $3/1 Gillette coupon from 12/6 RP
Pay $26.97
Receive 1000 Plenti Points for spending $30 on select items
Recieve 1000 Plenti Points for buying $30 worth of P&G items
Final price $6.97!