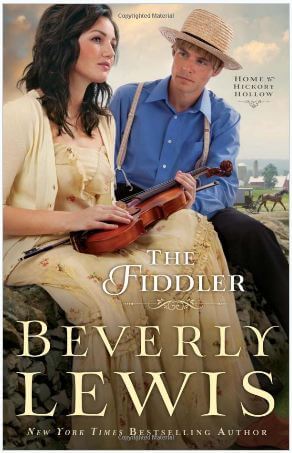 About the book
Amelia "Amy" DeVries, a 24-year-old violinist, is disillusioned with life and love after the collapse of her long-running romance. Weary of endless rehearsals and performances, Amy sets out on a road trip through the Pennsylvania mountains. She leaves her cell phone behind so life's demands can't intrude on her solitude. She doesn't know, nor care, where she will end up.
When her car breaks down deep in the mountains, Amy realizes the flaw in her "no cell phone" plan. She abandons her car and walks the winding roads, searching for help. Following the smell of woodsmoke and the sound of music, she finds a rustic log cabin. There she meets a young Amish-man–and through him a community–that will change her life forever.
My Review
Beverly Lewis, New York Times Bestselling Author returns with a new book, the first in the Home to Hickory Hollow series.
In this book, The Fiddler, we meet Englisher Amy and Amish-man Michael, two young people who's lives are worlds apart. Yet both are facing a similar problem and are at a crossroads. Both have dreams and passions for life that are totally different than the plans the parents have for them.
Due to a wrong turn and getting lost, Amy and Michael meet up. When they both realize the struggles they are having of following their hearts, they begin forming a friendship.
Through vivid details Lewis draws the reader into the conflicts both characters are facing. I appreciated the fact that even though both Amy and Michael were old enough to make their own decisions, they were very respectful and sensitive to their parents.
The book has an enjoyable ending and is full of depth yet enjoyable enough that it makes and easy read.
Thank you Bethany House Publishers for providing me with a free copy to review. My opinions are my own.