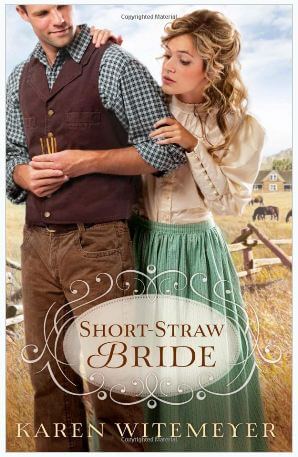 No one steps on Archer land. Not if they value their life. But when Meredith Hayes overhears a lethal plot to burn the Archer brothers off their ranch, a twelve-year-old debt compels her to take the risk.
Fourteen years of constant vigilance hardens a man. Yet when Travis Archer confronts a female trespasser with the same vivid blue eyes as the courageous young girl he once aided, he can't bring himself to send her away. And when an act of sacrifice leaves her injured and her reputation in shreds, gratitude and guilt send him riding to her rescue once again.
Four brothers. Four straws. One bride. Despite the fact that Travis is no longer the gallant youth Meredith once dreamed about, she determines to stand by his side against the enemy that threatens them both. But will love ever be hers? Or will Travis always see her merely as a short-straw bride?
My review of Short-Straw Bride
The story begins when Meredith is 10 years old and even though she was being bullied, she didn't back down. The story then fast forwards a few years and Meredith's parents have died and she is living with an aunt and uncle who are having financial problems. Her aunt and uncle do not treat her kindly and insist she must marry someone who she doesn't love to help with their financial problems.
Travis Archer was 17 years old when he meets Meredith for the first time and rescued her from danger she was in due to trespassing on his land. Meredith hasn't forgotten about Travis even though some years have passed. While courting the man she doesn't love, she hears him making plans to destroy Travis' property. Meredith feels she must head to the Archer's land and let them know what is going on. This is a brave thing to do as the Archer's are very unfriendly and threaten to kill anyone who steps on their land. Never the less Meridith heads out to warn them of the coming danger. From that point on the story includes a barn fire, an injury, an arranged marriage and so much more.
This is a story filled with courage, fear, love, friendship, simple romance and risks all bound into one book. A thoroughly enjoyable book with twists and turns that will keep you engaged to the very end.
Thank you Bethany House Publishers for providing me with a free copy to review. My opinions are my own.