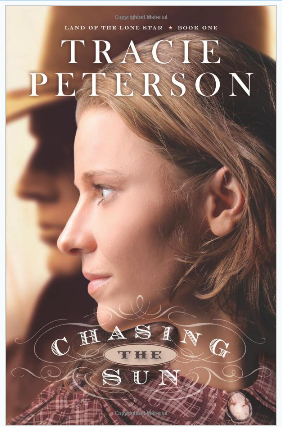 About the Book
When her father disappears in war-torn Mississippi, Hannah Dandridge finds herself responsible not only for her younger siblings but for the ranch her father recently acquired on the Texas plains. Though a marriage of convenience could ease her predicament, she determines to trust God for direction.
Wounded soldier William Barnett returns to his home only to discover that his family's ranch has been seized. Though angry and bitter at this turn of events, he's surprised to discover that it is a beautiful young woman with amazing fortitude who is struggling to keep the place running.
Hannah, desperate for help, and William, desperate to regain his family's land, form an uneasy truce. But nearby Comanche tribes, the arrival of Confederate soldiers, and a persistent suitor all threaten the growing attraction that builds between them. Will they be able to set aside their own dreams and embrace the promise of a future together?
My Review
Tracie Peterson's Chasing the Sun is a faith-based novel with plenty of adventure along with a sweet romance. I enjoyed how this book took place during the Civil War but was different from other books I have read as it was from a Confederate viewpoint.
The author doesn't gloss over as to what families suffered and dealt with during the Civil War. The main characters needed to work together to rebuild their lives even though they had loyalties on opposite sides.
I did feel the author didn't have Hannah and William spending much time together at all but by the end of the book they had fallen in love.
Overall it was an enjoyable read and I'll be looking forward to the next book in the series.
Thank you Bethany House Publishers for providing me with a free copy to review. My opinions are my own.