Are you looking for the perfect after school activity for the kiddos? Here are two programs my kids enjoy playing. Not only are these games fun but they are also educational, and the best part is you can get free trials to both of them.
Try ABCmouse.com FREE for 30 days!
ABCmouse.com Early Learning Academy is the leading online early education curriculum for parents, preschools, and kindergartens in the United States and Canada. ABCmouse.com offers more than 2,000 books, games, songs, puzzles, and art activities, each with specific learning objectives in the subjects of reading, mathematics, beginning science, social studies, art, and music.
Thy ABCmouse free or for a limited time, buy one month and you'll get your second month for free! That means you're getting TWO months for just $5.00-normally $7.95 per month.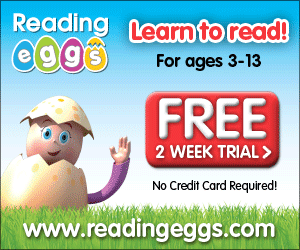 Try Reading Eggs free for 2 weeks!
Reading Eggs is geared towards kids ages 3 – 13.With Reading Eggs, your child can learn to read in just weeks! This program makes learning to read easy and fun by combining books with online reading games and activities.
The program is a great way for your child to prepare for school, or help them catch up with their classmates if they are struggling with reading. Take advantage of the free trial and see why 91% of parents have seen a noticeable improvement in their child's reading skills.