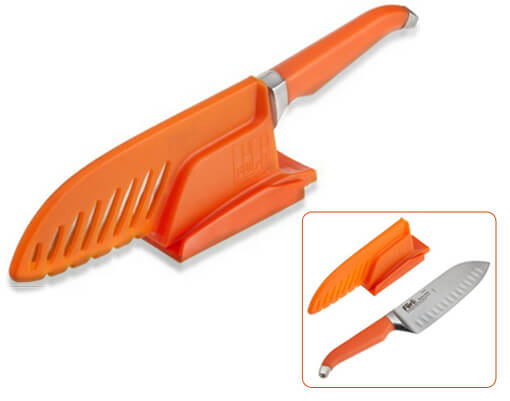 1SaleADay is offering this Rachael Ray Furi 7-Inch Sharp-and-Store Self-Sharpening Santoku Stainless Steel Knife with Sharpening Case for only $17.99 + $4.99 shipping.
This is an awesome deal as Amazon is offering the same identical knife for $38.19 shipped.
Product Info
Rachael Ray's Santoku Knife incorporates the traditional features of a Japanese Santoku knife with a revolutionary Australian design. 'Santoku' which translates as 'three uses' indicates the knife's superb slicing, dicing and mincing abilities. Made from a single CrMov stainless steel piece, the knife is rust-resistant and holds a fine edge. Granton edge grooves channel liquid off the knife for thin slices that won't stick to the blade.
Covered in antimicrobial polypropylene soft rubber, the handle features a unique slip-resistant reverse wedge shape. Included with the knife is a storage case system that incorporates a Furi 6-finger sharpener. The sharpener system sharpens the blade each time the knife is inserted or withdrawn from the case, guaranteeing a sharp blade that will have you slicing and dicing with ease.
Specs
Condition: New Packaging: White Box Warranty: Limited Lifetime Manufacturer: Rachael Ray by Furi Model: FUR901QV
Features Include:
7-inch Santoku blade with curved blade end for fast slicing, dicing and mincing
Grooved Granton edge for thin nonstick slicing
Wide blade for scooping up vegetables and crushing garlic
Knife made from a single piece of hardened and tempered CrMov stainless steel
CrMov stainless steel is rust resistant and holds a fine edge
Knife handle is reverse wedge shaped with finger groove
Handle covered in patented polypropylene soft rubber that is antimicrobial and slip resistant
Storage case with built in Furi 6-finger sharpener
Automatically sharpens knife when inserted or taken out of case
Durable hard plastic storage case with a non-slip rubber base
Securely houses knife so it won't accidentally fall out
Package Includes: Rachael Ray Santoku Knife, Sharpening Case, User Guide
Get your Rachael Ray Snatoku Knife today as this offer ends 8/10.