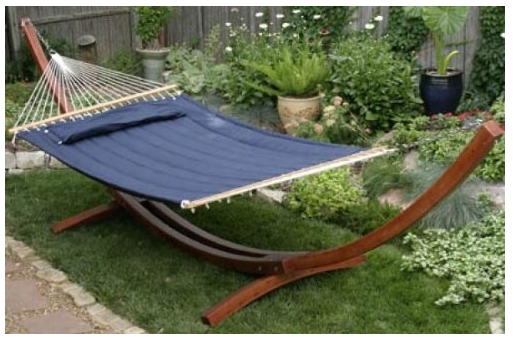 WOW, here is one amazing deal. Amazon is offering a huge sale on the Quilted Fabric Double Hammock with Pillow – Blue Striped priced at only $59.99. The regular price is $200 making this a 70% savings!
With summer weather here, this would be perfect for relaxing and enjoying the outdoors. This would also make a great Father's Day gift.
We have a hammock but it is made out of yarn and is so uncomfortable. It is funny because we were just talking about how a hammock made of fabric would be so much nicer.
This one does not come with a stand so if you don't have 2 trees to attach this hammock to you would need a stand. You can find them on Amazon as well. Here is one priced at $77.98 and here is another one priced at $119.99. So for as low as $137.97 you could have a hammock and stand for your yard.