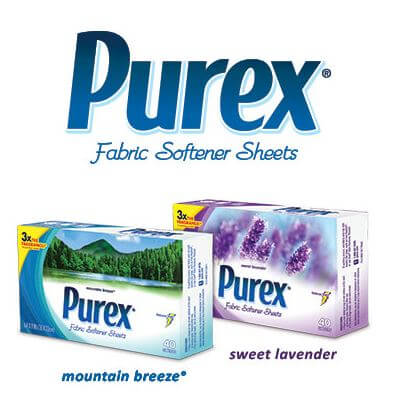 There is nothing like freshly washed laundry that has that great clean smell. This may be slightly weird but I hate it when I can't really smell a clean scent on the laundry as I fold it and put it away. Why bother doing the wash if you are not going to be rewarded with a great scent? Thanks to the new Purex Fabric Softener Dryer Sheets that have 3x the fragrance, I can easily smell that great clean smell I love on my just washed and dried laundry items.
These new Purex Fabric Softener Dryer Sheets come in Sweet Lavender and Mountain Breeze, which is the one I was sent to review. The very first thing I noticed when opening up the box was the strong scent. I don't have a problem with strong scents in fact I actually prefer it, but if you are sensitive to strong fragrances, please be aware of this fact. After using a sheet in a load of laundry, the clothing came out smelling so clean and fresh! Thanks Purex for a product that leaves a wonderful smell on the clean laundry.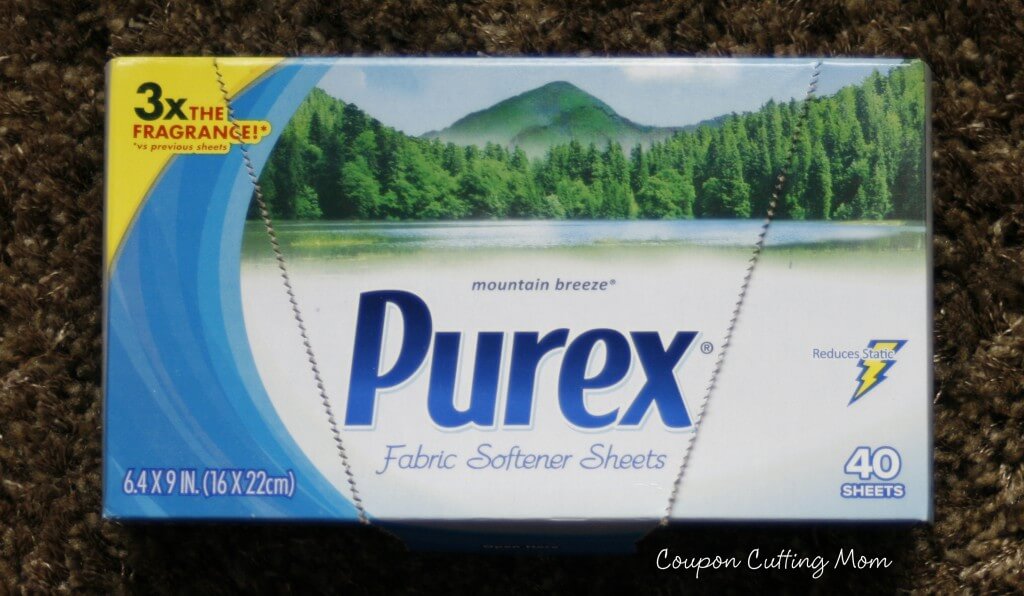 Not only do these fabric softener sheets reduce static but they also repel pet hair and lint. Dryer sheets also are great for keeping your gym bag smelling fresh, dusting furniture, or tuck one in the bottom of you hamper to kill the dirty clothing smell. Or add a dryer sheet to the heating/ac vent and when the air is on your room will be filled with a great smell. There are so many uses for a dryer sheet other than throwing it in the dryer. My favorite use for a dryer sheet besides using it in the laundry is for cleaning my oven racks. Yes, you heard me right, cleaning my oven racks.

When you use dryer sheets, you can almost effortlessly get shiny clean oven racks. Put 6 dryer sheets, your dirty oven racks and about half a cup of Dawn or similar dishwashing soap in the bathtub. Cover the rack with very hot water and let soak overnight. After soaking, most of the dirt will have come off. For any remaining dirt just use a dryer sheet and scrub the racks clean.
The Purex Fabric Softener Sheets can be found at Walmart. Follow Purex on Facebook to stay up to date on all the latest products and promotions.
Would you like a chance to try the new Purex Fabric Softener Sheets for FREE? I am giving away 1 coupon each to 2 lucky readers. The coupon will be for a FREE box of Purex Fabric Softener Dryer Sheets. This giveaway is open to US residents only and will end on August 20, 2013.
How do you enter to win?
On the Giveaway Tool form below, simply complete as many entries as you would like. Please note that ALL entries are validated prior to winner selection, so do make sure that you fully complete each entry.
Good Luck!
Coupon Cutting Mom received one or more of the products mentioned above free for evaluation purposes. Regardless, all opinions expressed are still 100% my own.