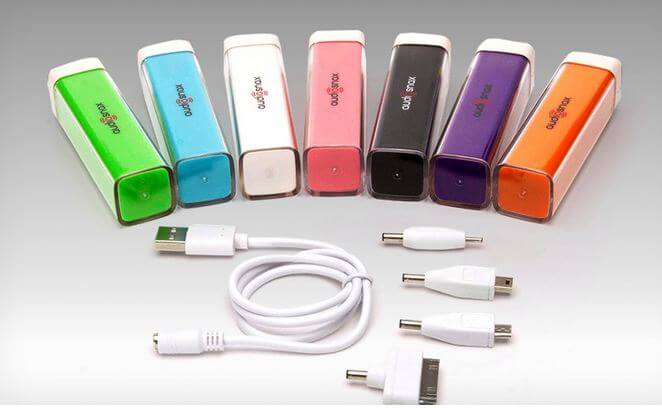 Get this PowerBooster Charger for Smartphones and other devices for only $19.99 (reg. $59.99). Shipping is free! Available in your choice of 5 different colors.
The PowerBooster can be a bit deceiving at first—it's made by a company with "Snax" in their name; it comes in candy colors; it looks like a pack of gum; it delivers juice—but you can't eat it. It's easy to get over that initial disappointment, though, when your smartphone keeps kicking through twice its typical capacity of phone calls and web surfing without so much as looking at an electrical outlet. That's because despite its diminutive size, the PowerBooster can fully recharge smartphones, tablets, and other portable electronics. With a range of included adapters, the battery pack accommodates phones from Apple, Blackberry, Nokia, LG, and other major players, as well as any device that charges over mini- or microUSB.
Portable smartphone charger
2,200mAh capacity
Recharges in 3–4 hours
No bigger than a pack of gum
Charges phones, tablets, and other portable electronics
Apple 30-pin, mini- and microUSB, and Nokia chargers included
Multiple colors available
Dimensions: 3.58" (L) x 0.97" (W) x 0.97" (H)
Get your PowerBooster Charger here before this sale ends.