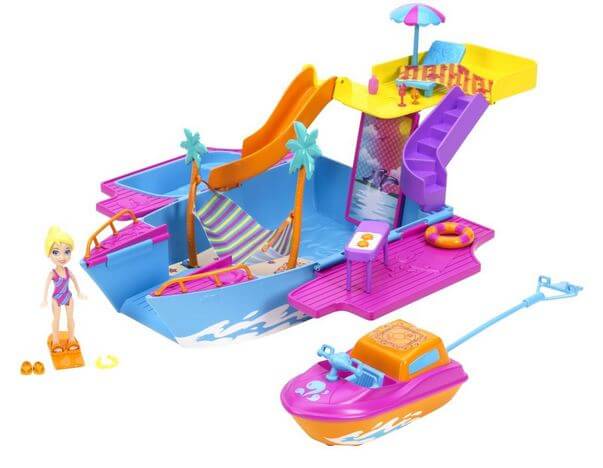 Head over to Amazon where the Polly Pocket Tropical Party Yacht for only $9.99 (reg. $29.99).
Polly Pocket Tropical Party Yacht: In the world of Polly Pocket, adventure is part of the destination. This play set lets girls capture the adventure of both the journey and the destination: the two-in-one adventure yacht transforms from a cruise ship into the ultimate island destination. Closed, the ship resembles a normal boat with portholes, fins and other ocean-like icons. Once opened, it becomes an island destination with palm trees and all the accessories for tropical fun. Play areas include a sundeck, a BBQ space with a grill that flips, a hammock and a slide that leads from the sundeck to a pool that hangs over the ocean. For more extreme fun, pull out the smaller speedboat from the front of the yacht, attach Polly doll and – with the push of a button – launch her into the air to perform the ultimate water ski tricks and flips. It's sun-sational fun at sea. Set includes 1 Polly doll, water ski boat, anchor, shoes, drinks, sunglasses, buoy, grill that flips, umbrella, lounge chairs, hammock and additional beach-themed piece-count.
Get the Polly Pocket Tropical Party Yacht here while it is at this low price.