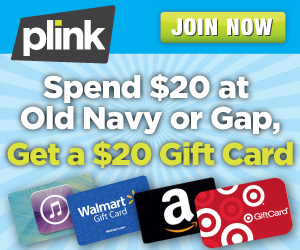 Plink is offering new users a FREE $20 gift card to Amazon, Walmart, Target, Kohls or many other great retailers. To get your free $20 gift card all you will need to do is spend $20 at Old Navy or Gap by 4/14.
Sign up for you Plink account here. You will need to link you credit/debit card to your account. Then head over to Gap or Old Navy and make a minimum $20 purchase by 4/14/13. The $20 must be from an in-store purchase only, not valid for online purchases.
But it doesn't end there, you can continue to make purchases and earn gift cards through Plink's reward program.
Sign up – it's free! Then register your credit/debit cards and get rewards when you dine and shop at your favorite places. Shop and earn free gift cards. Now that sounds like a win win situation. Join Plink today and start earning gift cards.