This is a sponsored post, but all opinions 100% my own.

Playing With Fire Movie Ticket Giveaway + Fire Safety Tips For Your Family
I'm excited to see Paramount's new film Playing With Fire! This film is coming to theaters on November 8, 2019, and looks like a fun one the whole family will enjoy! With a film about fire and kids and with October being Fire Prevention Month, it makes the perfect time to think about fire safety tips and plans for your family. Be sure to read through this whole post to learn more about this movie and enter to win four FREE movie tickets and some great swag too.
Fire Safety Tips
Fire is FAST! In less than 30 seconds, a small flame can turn into a major fire. Since many fires are preventable, following some essential fire tips can go along way in protecting you and your loved ones.
Did you know that working smoke alarms reduce the chances of dying in a fire by nearly 50 percent?! For a smoke alarm to be effective, it needs to be working properly. For the best protection, there should be a smoke alarm installed in every bedroom. Also, be sure all levels of your home have several detectors. Interconnect smoke alarms throughout the house. When one sounds, they all sound. Daylight savings time is the perfect time to remember to check all alarms in your home and replace the batteries.
Be sure to have a fire escape plan and practice it at least twice a year. In the event of a fire, remember that every second counts, so you and your family must always be prepared. Escape plans help you get out of your home quickly. When creating your plan, be sure to find two ways out of each room in the event the primary way is blocked by fire or smoke. If you have upper story windows, consider a collapsible fire ladder for those windows.
Keep matches and lighters out of reach of kids and to take it even a step further and store lighters and matches in a cabinet with a child lock. Playing with matches is still the leading cause of fire-related deaths and injuries for kids younger than 5.
If possible, use candle warmers, essential oil diffusers, or other none fire devices to fill your home with lovely scents. If you do burn candles, make sure candles are in sturdy holders made of non-flammable material that won't tip over. Also, be sure to always blow out all candles when you leave the room or go to sleep.
Be careful when cooking. Cooking is the leading cause of home fires in the United States. If you are frying, broiling, or grilling food, be sure not to leave the kitchen even if it is just for a few minutes. Be sure when you have kettles on the stovetop to turn all pot handles in so they can't be knocked over.
Sleep with your door closed. Keeping your bedroom door closed at night significantly increases your chances of surviving a household fire. According to research, as a fire spreads, rooms with closed doors will maintain temperatures under 100 degrees Fahrenheit, compared with over 1,000 degrees in the rooms with open doors. That temperature difference can mean the difference between life and death.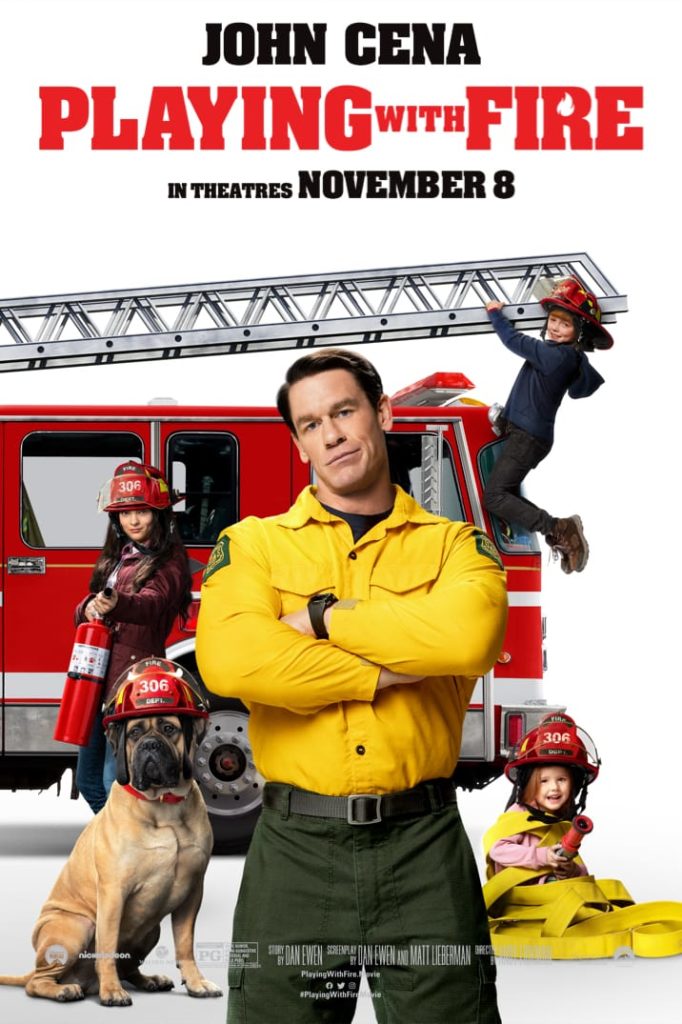 When straight-laced fire superintendent Jake Carson (John Cena) and his elite team of expert firefighters (Keegan-Michael Key, John Leguizamo and Tyler Mane) come to the rescue of three siblings (Brianna Hildebrand, Christian Convery and Finley Rose Slater) in the path of an encroaching wildfire, they quickly realize that no amount of training could prepare them for their most challenging job yet – babysitters. Unable to locate the children's parents, the firefighters have their lives, jobs and even their fire depot turned upside down and quickly learn that kids – much like fires -are wild and unpredictable.
Playing With Fire Official Trailer
Playing With Fire Giveaway


Thanks to Allied Global Marketing for generously offering one lucky Coupon Cutting Mom reader FOUR Playing With Fire movie tickets plus some great swag too. Enter the Playing With Fire giveaway below for a chance to win! This giveaway is open to US residents ages 18+ and ends at 11:59 pm ET on November 8, 2019. Tickets will be emailed to the winner and will be valid at Cinemark, AMC or Regal theaters. Tickets will be valid beginning on November 11, 2019 through the run of the engagement. Tickets valid Monday – Thursday (excluding holidays). Not valid for IMAX, RPX or 3D showings.
Good Luck!