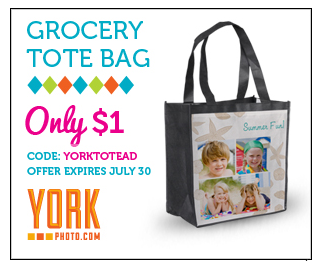 Here is a *HOT* deal you can score on a personalized grocery bag. Now through July 30, head over to York Photo and design your own personalized grocery tote bag, and pay only $1 per bag (reg. price $8.99) when you use code YORKTOTEAD at checkout. Shipping starts at $3.99.
This past weekend was my sisters bridal shower. I had designed one of these bags for her using their engagement pictures. I then used the bag as a gift bag for her shower gift and now she has a personalized reusable shopping bag she can use over and over. There are also many other uses you could come up with for these bags such as, make one for each of your kids with their picture on it and use it in the car for snacks and toys when traveling.
If you are new to York Photo, this deal gets even better. All new members get 40 FREE prints after completing registration. So that means for only $4.99 you can score 40 prints and a personalized grocery tote shipped to your door!