This post is sponsored by Refreshing Mountain. As always, all opinions are 100% my own.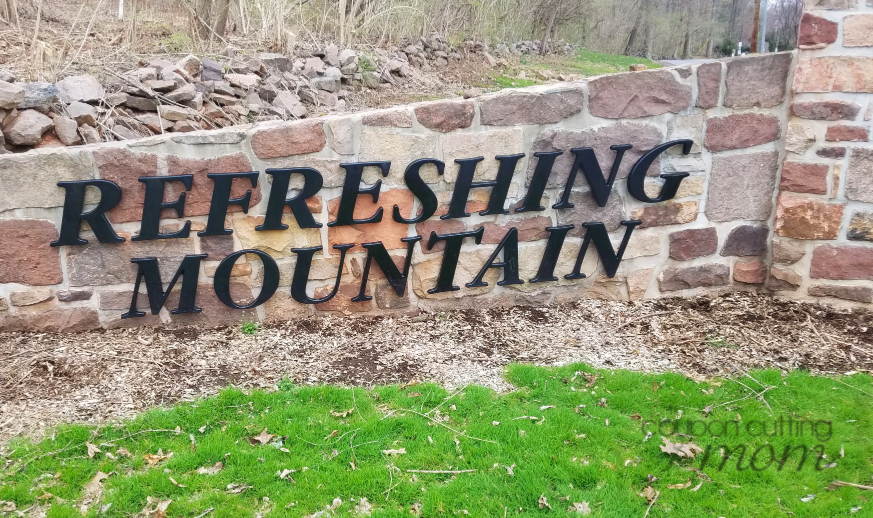 Family Fun Outdoor Adventures at Refreshing Mountain in Lancaster, PA
Are you looking to spend some amazing family time in the great outdoors? My kids and I recently had the chance to visit Refreshing Mountain for the first time, and we can't stop talking about how amazing of a time we had at this year-round retreat and adventure center.
Located in Lancaster, PA just minutes off the Pennsylvania Turnpike in Stevens, PA is this 80-acre facility has been providing family-friendly fun and the perfect place to escape and relax while enjoying many fantastic outdoor activities for over 30 years. You will find everything from ziplining to seasonal pool lounging, fire pits for marshmallow roasting to a wildlife center, overnight lodging in lovely cabins to teambuilding courses! There are activities for all ages! Keep reading to see a highlight of all this retreat has to offer.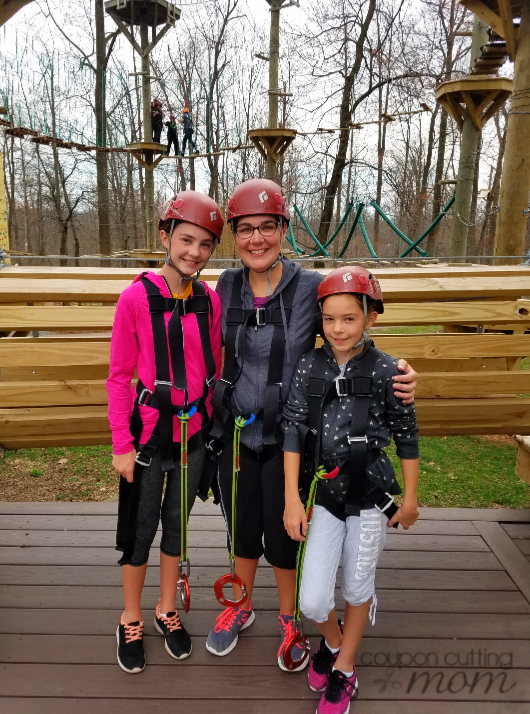 It would be hard for us to pick our very most favorite activity of our Refreshing Mountain visit to Refreshing Mountain as we had such a blast at everything. Definitely, at the top, our list though was the elevated obstacle course. This course is advertised as a high ropes course that will help you conquer your fears while working through up to 22 different challenge elements. Let me tell you the advertising is spot on! There are two levels to this course (11 obstacles per level) with the lower level ranging from 3 – 13 feet off the ground. The upper level is 15 -25 feet off the ground and is accessible for ages 8+. My younger daughter (10 years old) and I had never done an obstacle course before but were so excited to change that on our visit to Refreshing Mountain. We were so excited that we said let's start out on the higher level of the course.
My 13-year old daughter was rather laughing at this plan as she has done these type of obstacle courses before, but she didn't try to dissuade us. My 10-year old says heights scare her and we were barely into the course and she freezes and says she can't go on. Truth be told by this point I wasn't sure could make it through some of the obstacles at this point either. Let me say the staff at Refreshing Mountain is the kindest most caring, friendly group of people you will meet anywhere. Right away one of the team members on the course came over to us encouraging and cheering my daughter on while showing her how to maneuver through some of the trickier parts. Okay, they needed to help me through a couple of spots too. I was so impressed that they didn't allow us to just give up and turn back but made sure we completed that level. And oh my even though our mental and physical strength was tested, we can say we finished the whole level, and we jokingly say now we have the smallest idea of what it must feel like to be an American Ninja Warrior. And now that I did it once I'm actually thinking I would love to do go through this course more times! After completing the second level, we also went through the 11 obstacles on the first level. This level is easier and is where the younger kids ages 5 – 7 years old can try their hand at an obstacle course. It is also a great starting place for anyone especially those who prefer to keep their feet closer to the ground.
Another awesome activity at Refreshing Mountain is their ziplines. We were able to do the
Flying V Zipline
on our visit. This "V" formation course has two ziplines that cover a length of over 590 feet while the rider cruises at speeds of up to 25 miles per hour. Again for my younger daughter and I, this was our first time ziplining (are you seeing a reoccurring theme here how this visit had us trying things we had never done before). This was the perfect zipline to start out on and we both discovered ziplining is as much and even more fun than we imagined! That amazing feeling of flying through the air while safely harnessed is a really neat feeling. Again for families with younger kids, this is the perfect course to give ziplining a try as it is geared for ages 5+.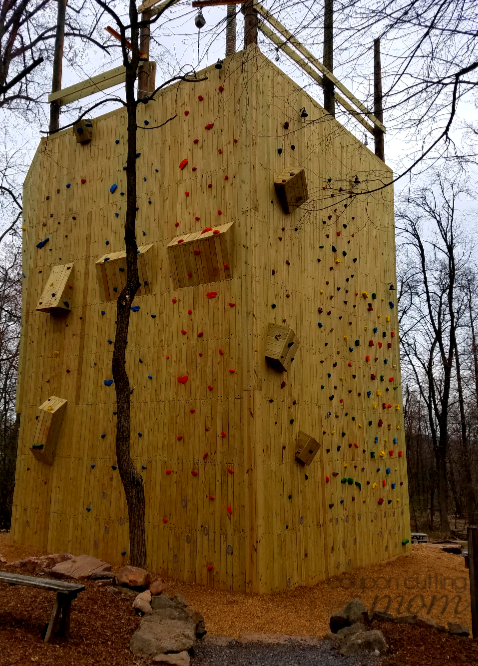 You will have a chance to harness your inner climber on the climbing tower. This 40-foot climbing tower is built for all skill levels with multi sides that allow everyone from the novice to expert to find the perfect level for them. My kids enjoyed the racing course in this tower. My 13-year old daughter even raced the one staff member (a guy) and won! Girl power! But to be clear he raced her using only one hand and don't tell her I said this but I think he left her win! As you will notice on the picture of the racing section of this climbing area the racers are not wearing helmets and this is due to a nifty automatic belay system that safely lowers the racers to the ground. All other sides of the climbing tower though require the use of a helmet while climbing.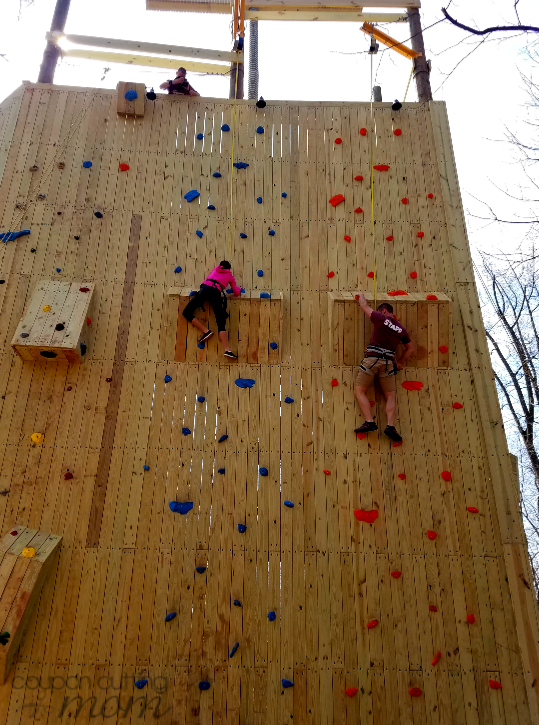 The Giant Swing is the place to go to get a rush you won't quickly forget. Again there is staff at this ride to get you safely harnessed in a full body harness. You are then hoisted up to 30 feet in the air (if you want less of a rush you can choose to go only part of the way to the top). When you are at your desired height, you pull the tab on your harness and just like that you are swinging through the air on the pendulum-like rope. At first, I wasn't sure if I wanted to give the swing a try but my kids both insisted it was such a blast and they were totally correct! That awesome feeling of swinging through the air is really amazing and I'm so glad I didn't pass on a chance to try out this swing.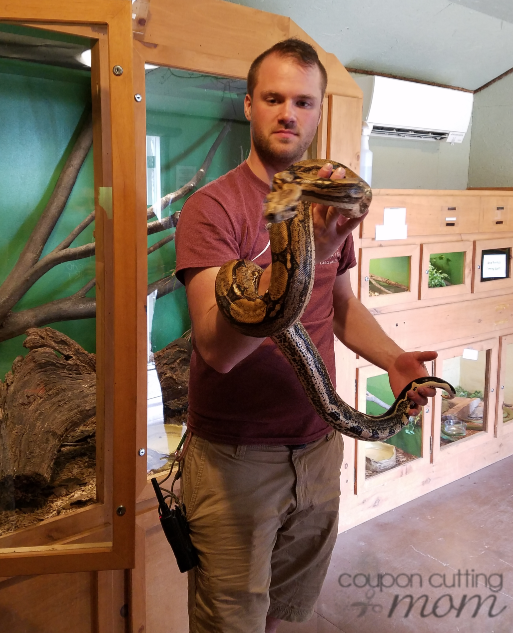 During our visit to Refreshing Mountain, we had a chance to visit the Wildlife Center. Here visitors get to experience one of the most hands-on reptile experiences around! We had the chance not only to touch but also hold some snakes, lizards, turtles and more found in this center. Numerous of the reptiles found here are native to Pennsylvania, but we also got to see exotic species from around the world. We got to see and hear the rattlesnake doing his "rattle"; we got to see some toads, touch an alligator, see the blue tongue of the Blue-Tongued Skink and so much more.
During the summer months, visitors to Refreshing Mountain can enjoy cooling off with a swim in the near Olympic size pool that is open from Memorial Day until Labor Day. The pool area includes a diving board, a water playground, a 30-foot slide and of course plenty of deck space for relaxing by the pool. Please note there is a pool dress code and you can find the details about that here. Also, located right next to the pool is 319 Cafe serving sandwiches, pizza, milkshakes and more.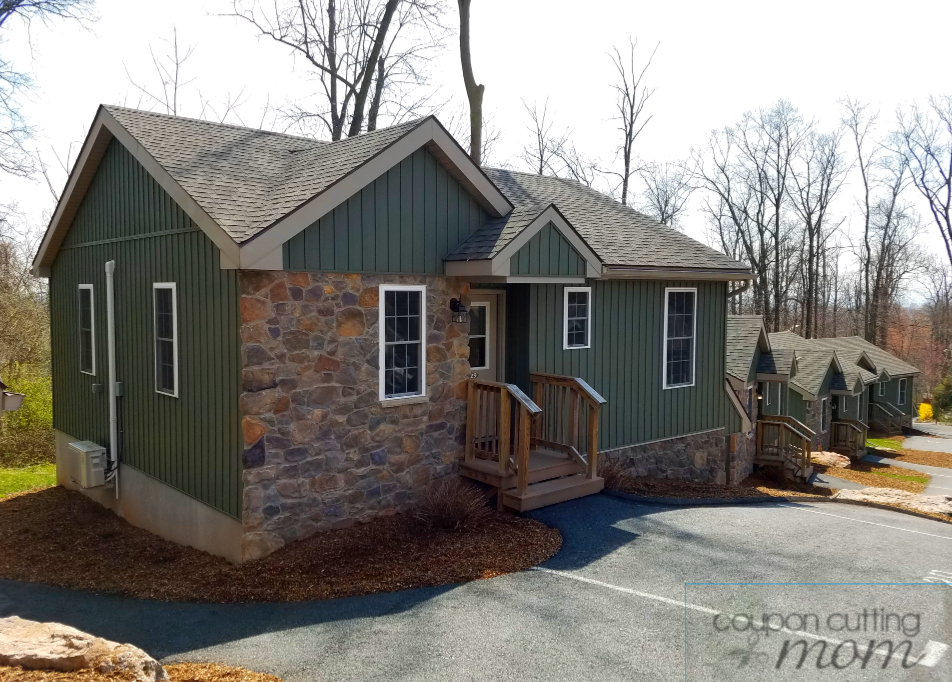 For visitors looking for longer than a day visit to Refreshing Mountain, there are lovely fully furnished cabins where you can relax, unplug and enjoy the cozy setting in the woods. Each cabin can accommodate up to eight people and comes complete with linens, kitchen cabinets stocked with utensils etc., A/C and more!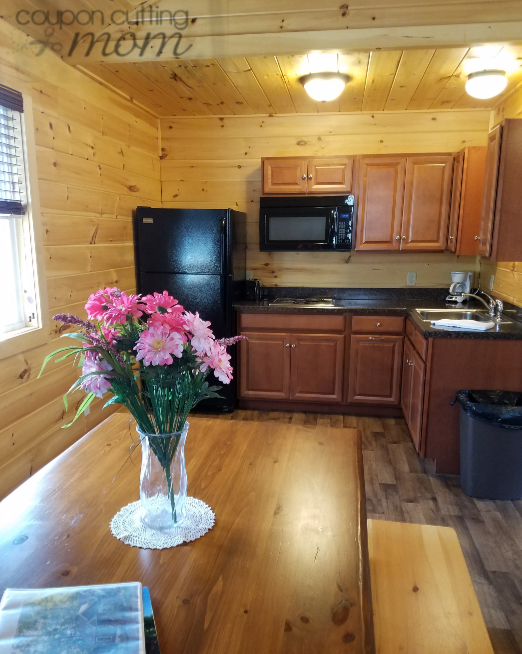 If you are looking to bring your next event to Refreshing Mountain, there are fourteen meeting rooms available that host anywhere from 20 – 400 people, also available for large groups are both bunkhouses and motel style rooms in addition to the cabins. There are also two large gyms, a dining hall, pavilions and so much more to make for the perfect retreat.
If you are looking for a fantastic time of fun and adventure for all ages, then get started on planning your Refreshing Mountain getaway now. Whether it is a day trip or a weekend stay, you will find lots of outdoor activities geared for all ages at this retreat that is conveniently located just 25 minutes north of Lancaster, 30 minutes east of Hershey and 90 minutes west of Philadelphia.