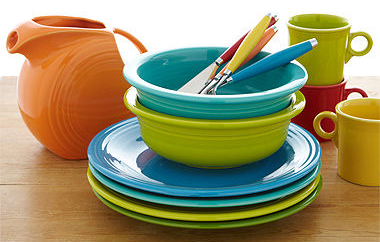 Today is the day to buy some Fiesta Dinnerware. One Kings Lane is offering some beautiful Fiesta pieces right now. You can score 4 dinner plates for only $39 + shipping. Better yet if you are new to One Kings Lane head over here to sign up and receive a FREE $15 credit, making 4 dinner plates only $24 + shipping.
I have had my eye on Fiesta Dinnerware for awhile and this is by far the best price I have seen. Right now on Amazon the dinner plates are selling for $16.98, so for 4 plates you would pay $67.92 verses buying them today and paying as low as $24 on One Kings Lane! Wow, talk about a great savings.
There are many other pieces of Fiesta produts on One Kings Lane today as well. Head over and check out the pretty colors and selections.