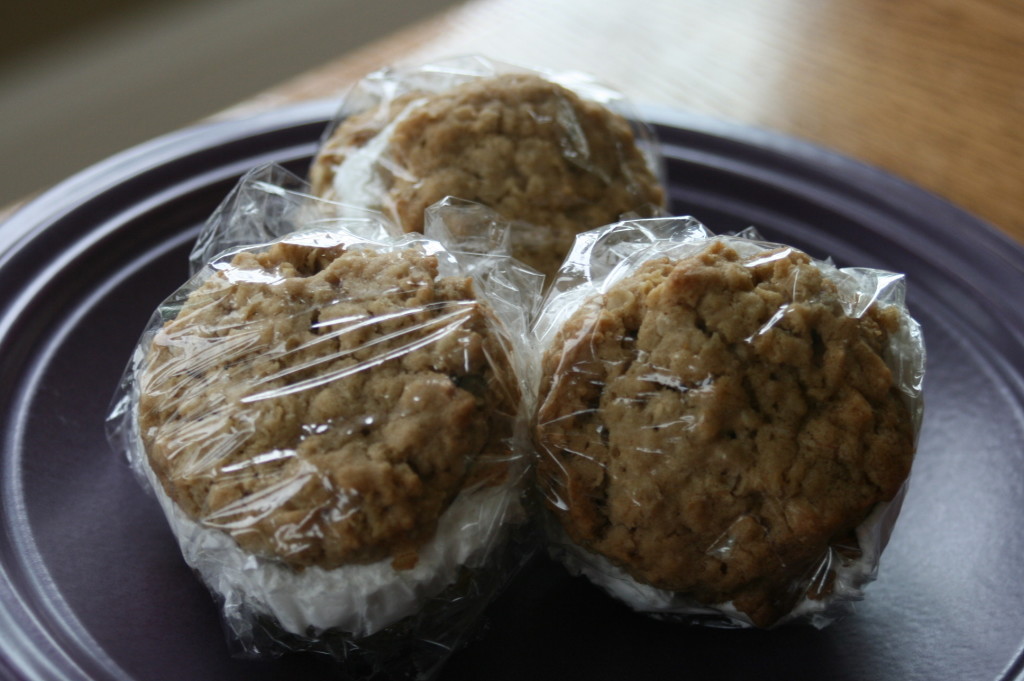 I like to have baked items on hand and the supply of them has run out, so that means I need to bake again.  I had a bunch of oats that I had gotten as part of a gas deal at Giant awhile back and decided to try to find a recipe that would use some of them up. I found this Oatmeal Cream Pie recipe and mixed up a batch.

Oatmeal Cream Pies
Ingredients
1 stick butter, room temperature
¾ cup brown sugar
1 egg
1 teaspoon vanilla
1¼ cups flour
1½ cups oats
½ teaspoon baking soda
½ teaspoon salt
1 /2 teaspoon cinnamon
Marshmallow Filling:
1 stick butter, room temperature
1 7-ounce container marshmallow creme
3 cups powdered sugar
1 teaspoon vanilla
Instructions
Cream together the butter and brown sugar until light and fluffy, about 5 minutes.
Add the egg and vanilla. In another bowl, whisk together flour, oats, baking soda, salt, and cinnamon. Slowly add the to the butter mixture. Mix until just combined.
Use an ice cream scoop to drop dough balls on a parchment-lined cookie sheet. If you do not have an ice cream scoop, make them into 1 tablespoon sized balls.
Bake in a preheated 375 degree oven for 8 to 10 minutes. Let cool completely on a cooling rack.
Make the filling by creaming together the butter and marshmallow creme. Slowly add the powdered sugar and vanilla. Beat until smooth and fluffy.
Add a generous scoop (I used the same scoop that I used to measure out the dough) of filling to half of the cookies.
Add another cookie to the top and there you have an oatmeal cream pie.
I wrap each individual cookie in Saran Wrap. This makes them mess free to store and also perfect for lunch boxes.
Makes approx. 16 cookies.
Thanks,
Baked Bree
for the recipe!