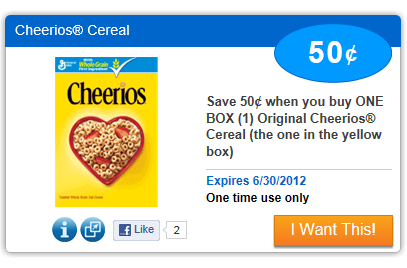 SavingStar has released a bunch of new coupons today.
New to SavingStar and not sure how it works? Sign up for an account and add your store card numbers and select the coupons you would like. Then whenever you shop at stores you added to your account and purchase items that you have select coupons for, you will receive the money in your account. When you reach $5 you can select your payment in the form of a check, Paypal credit, or Amazon gift card. The coupon must be selected before purchase the item or you will not receive credit. So if you see items you think you may purchase activate them, then if you purchase the item you will receive the credit. If you activate the coupon and don't use it before it expires no big deal it just disappears from your account.
Here are the coupons I added to my SavingStar account today:
Save 75¢ when you buy any one box Kix cereal listed: Kix®, Berry Berry Kix, Honey Kix
Save 50¢ when you buy 2 boxes any 6 count or larger Nature Valley Chewy Trail Mix Bars
Save 50¢ when you buy 1 box Original Cheerios Cereal
Save 50¢ when you buy 1 box Trix Cereal
Save 40¢ when you buy 6  any variety Yoplait Cups
Save 50¢ when you buy 2 boxes any flavor/variety Betty Crocker Fruit Snacks
If you think you will use any of these coupons, add them to your account today as they can reach their limit quickly and then are no longer available to add.