It is a new month and that means lots of new printable coupons are available this morning. I listed a few of my favorite ones that are available. If you want any of these coupons, I recommend printing them now as the high value coupons often reach the print limit quickly.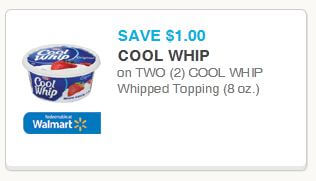 $1.00 off TWO (2) COOL WHIP Whipped Topping 8 oz
$1.00 off TWO (2) JELL-O Ready To Eat Puddings
$0.50 off 1 Chex Mix OR Chex 100 Calorie Snack
$1.00 off TWO (2) JELL-O Gelatin and Pudding Mix
$0.30 off any flavor Yoplait Simplait™ Yogurt
$0.50 off ONE BOX Lucky Charms cereal
$0.75 off ONE BOX Kix cereal
And remember you can print 2 of each coupon by hitting the back and then refresh button after the 1st coupon prints.