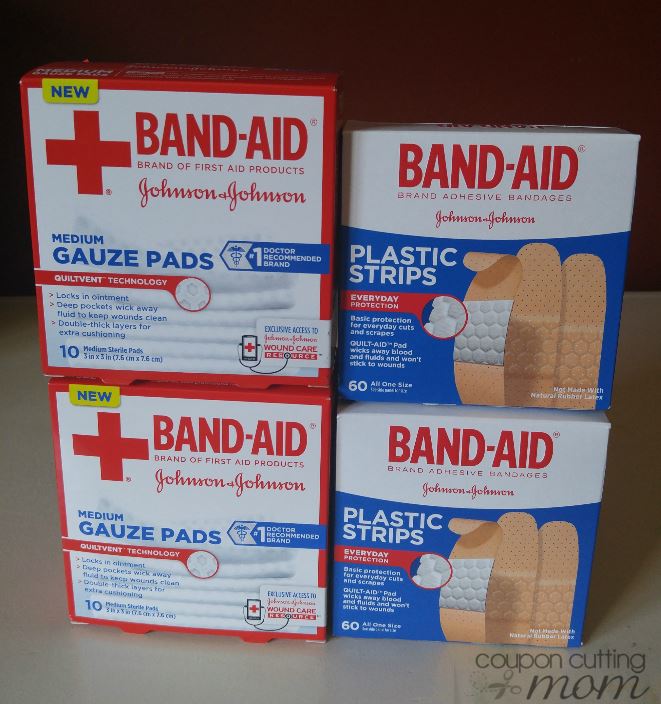 Rite Aid: $4 Moneymaker on Band-Aid Products
Rite Aid shoppers here is your chance to stock up on Band-Aid products and end up with a nice sized moneymaker. These four Band-Aid items have a shelf price $13.56 at Rite Aid, but after sales and coupons, I paid $7.66. I then earned $10 in Plenti Points and a $2 Catalina which made for a $4.34 moneymaker!
Here is a breakdown of the Band-Aid deal at Rite Aid: (offer good through 6/24)
Buy 2 Band-Aid Gauze Pads, 10 ct – $3.79 (buy one get one 50% off) 
Buy 2 Band-Aid Plastic Strip, 60 ct – $2.99 (buy one get on 50% off)
Use $1.50/2 Band-Aid Brand of First Aid Products printable coupon (limit 1 per person)
Use 2 $0.50/1 Band-Aid printable coupon
Pay $7.666
Receive $2 Catalina when you buy 3 or more Band-Aid items
Earn $10.00 Plenti Points
Final price FREE + $4.34 moneymaker!