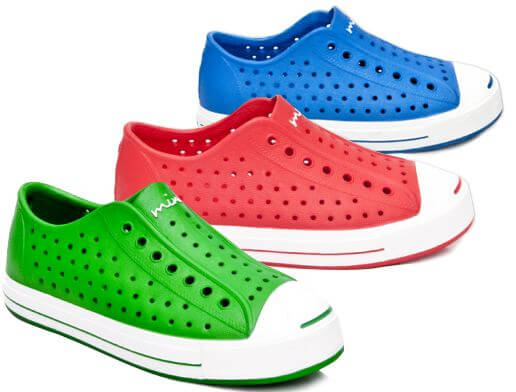 These Mint Rezax Shoes are on sale for only $19.99 (reg. price $45.00). Shipping is free.
Ever feel self-conscious about taking your shoes off after a long and sweaty day?  Do yourself and your friends a favor-let your feet breathe! Mint's innovative Rezax shoes are designed to keep your feet minty fresh all day long. They look just like sneakers, so you can dress them up or dress them down. Massaging ridges relax your feet as you walk, while ventilation holes prevent uncomfortable heat from getting trapped in. The cushy soles will make you feel like you're weightlessly bouncing around on air. To clean them, just rinse them off with water! Available in men's and women's sizes, these great shoes come in black, white, grey, red, blue, or green.  
Mint is known for their high-quality and innovative footwear. Advanced research and technology makes their products uniquely geared towards customers who are looking for comfort, versatility, and hygiene. Using open-cell technology, all of their footwear is odor-resistant and anti-bacterial. Believers of protecting the environment, their products are 100% recyclable. 
Features Include: 
Designed to look like sneakers
Massaging ridges and cushy soles provide daylong comfort
Ventilation holes prevent bacteria and heat from getting trapped in
Unisex design
100% recyclable
Rinses off with soap and water
Color: black, white, grey, red, blue, or green
Men's sizes: 5, 6, 7, 8, 9, 19, 11, 12
Women's sizes: 6.5, 7.5, 8.5, 9.5, 10.5, 11.5, 12.5, 13.5
Get a pair of Mint Rezax Unisex Shoes here. This offer is good 6/11 only.