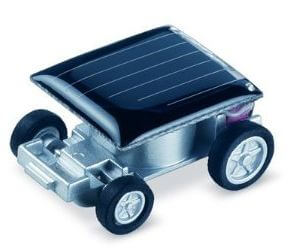 This Mini Solar Racer is a toy car which claims to be the world's smallest solar powered car. This is my kind of toy as it is educational and requires no batteries. The solar panel allows the car to move from solar energy when the car is placed either in sunlight or under a bright artificial light.
You can score a Mini Solar Racer for only $1.80 shipped! This is an awesome deal as this car regularrly sells for $25.99.
Think ahead, Christmas isn't real far away and this Mini Solar Racer would make a great stocking stuffer.
Thanks, Chesco On The Cheap!