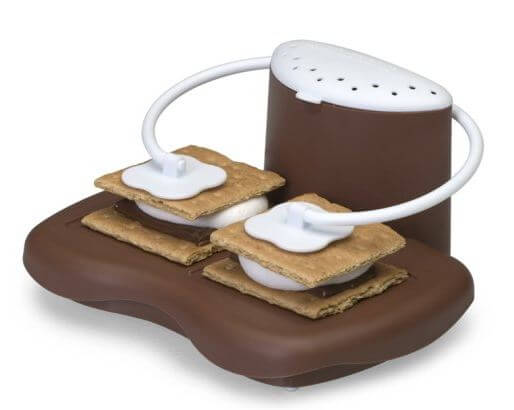 Calling all S'Mores fans. Here is the perfect 30 second way to make S'Mores indoors. This Microwavable S'Mores Maker is priced at only $8.20. This item qualifies for free shipping with Super Saver or Amazon Prime.
Get this all-time classic treat right out of the microwave. You can microwave two S'Mores in 30 seconds or less using this innovative product. Just fill the water reservoir, place your graham crackers, chocolate and marshmallow on the tray and heat. The marshmallow and chocolate heat at the same time, thus ensuring a perfect S'More every time.
Features:
Microwavable s'mores maker cooks up to 2 s'mores in just 30 seconds
Arms prevent marshmallows from over expanding and overcooking
Easy-to-fill water reservoir; change water after every second time used
Graham crackers, marshmallows, and chocolate heat evenly; dishwasher-safe
Measures approximately 7-1/2 by 6-1/2 by 4 inches
The Microwavable S'Mores Maker gets a 4.5 out of 5 star rating. Check out these reviews:
We love roasting smores on a campfire but do not get to do that too often. When I saw the low Amazon price, I had my doubts. I was still so excited to try this out. It came in and the kids and I tried it for dessert. It was just as easy as promised. It took only 30 seconds to cook the marshmallows evenly and perfectly. The chocolate doesn't really start melting until you take it out of the microwave which is good. It is less messy that way.
I could not recommend this enough. We use ours very regularly. I have already bought three more as Christmas gifts. Wonderful, simple, inexpensive. What more could you ask for? Go get your own!!
I've bought 6 of them and have been using them with hundreds of junior high school students for the past 3 years. Simple and easy to use and they work well. Fun!
It seems like a silly thing but having the water provide steam and the arms tamp down the smore makes it neat and keeps it from burning. No muss no fuss and although it's not as cool as roasting marshmallows over a fire, it makes smores a regular treat. We use this a lot for an easy treat or dessert!
Get your Microwavable S'Mores Maker here.