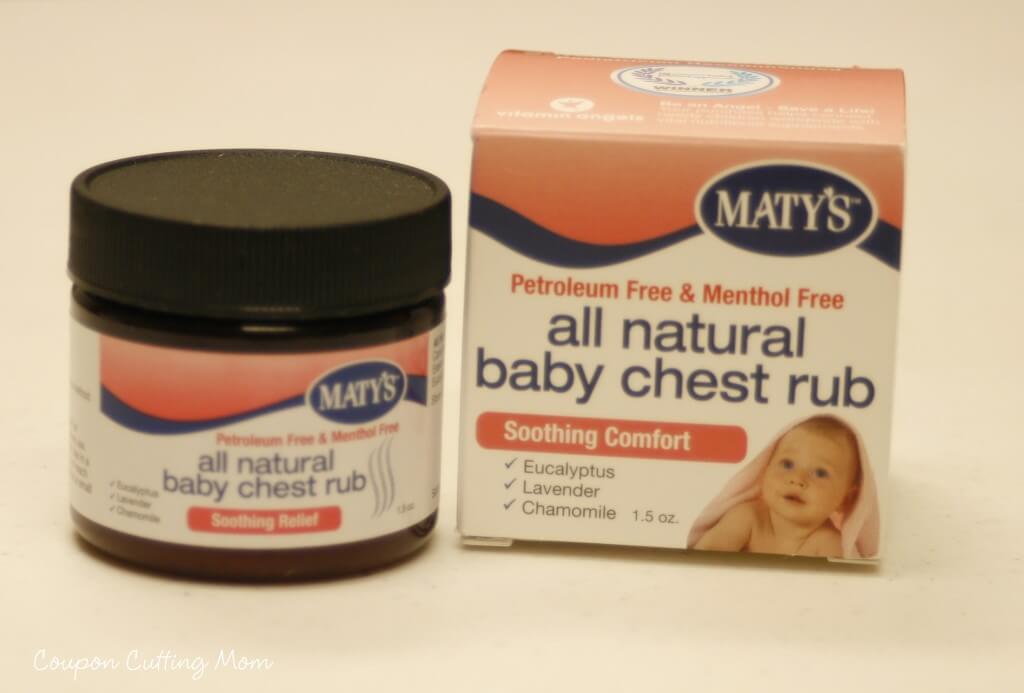 Winter weather can bring sniffles, colds and coughs and when you have babies, toddlers or even older kids it just isn't any fun when they are not feeling well. I especially hate when a kid is just coughing and coughing and can't sleep well and have found that rubbing vapor rub on their chest and the bottom of their feet can really help to quiet the cough allowing them to sleep comfortably. It seems the older I get the more attention I have been paying to ingredients in products and I discovered the popular brand of vapor rub we had been using contains petrolatum. Yikes! Petroleum is a byproduct of oil drilling and to me that sounds more like gasoline, car engines and that kind of thing and here I was slathering it on my kids' bodies. What was I going to do the next time the cough strikes?
You can imagine I was excited when I found out I was going to be receiving a Maty's All Natural Baby Chest Rub to test. I was even more excited when I found this rub is menthol and petroleum free making it totally safe to use to use on the kiddos.
Maty's company was started by a family who was desperate to help their daughter, Maty who had been born with a heart defect and other issues. Their child went through several major surgeries in the first few years of her life. Thankfully the doctors were able to help her heart but she was left with a weakened immune system. So they began spending hours researching and studying natural remedies and healing and through the whole process they discovered a remedy that really worked and that is how the Maty's All Natural product line was born.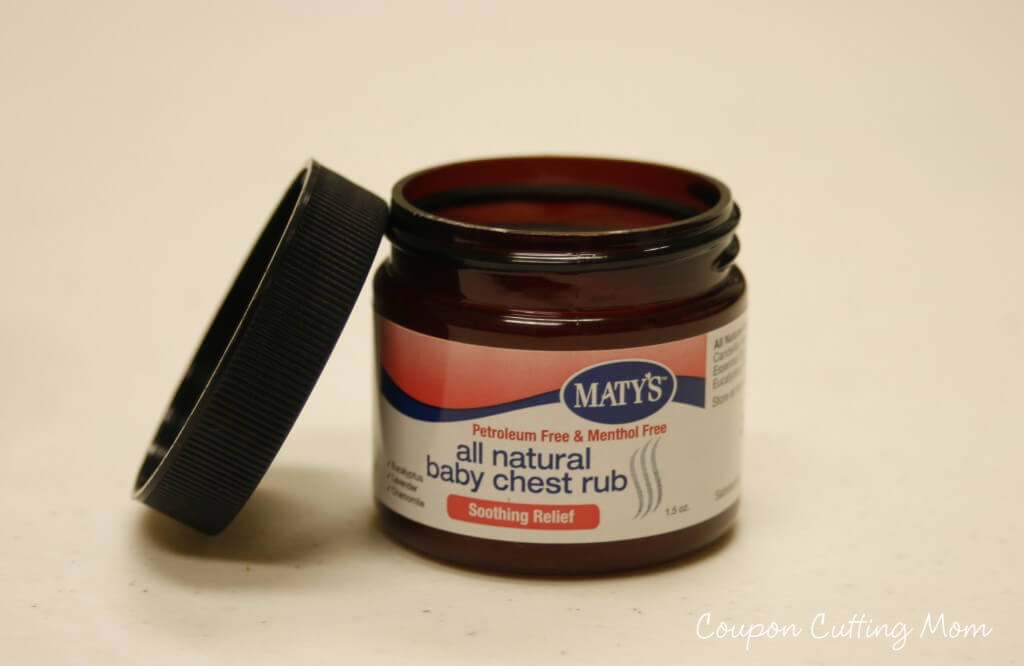 Maty's full product line is and will always be 100% natural, made with ingredients you recognize and know are safe. The products are thoroughly tested to ensure they are pure and safe and everything is made here in the USA.
Now I have not had anyone sick at my house since I received my Maty's product but I know that the next time the cough and cold makes its appearance I will feel totally safe using the chest and vapor rub. The all natural baby chest rub and vapor rub is made with healthy oils like sunflower oil, coconut oil, and castor oil so they can remain petroleum free. Then they add essential oils like eucalyptus, lavender and peppermint, which have been used for centuries in aromatherapy and traditional Chinese medicine. The result is soothing and comforting while it helps boost the immune system.
If you would like to purchase any of the items in the Maty's line, their products can be found at Walmart, CVS and many other retailers across the country. Find the complete list of locations here that carry the Maty's line. Follow Maty's on Facebook, Twitter, Pinterest and stay up to date on all the latest products and promotions.
Thanks to Maty's, a lucky Coupon Cutting Mom reader will win a product from Maty's. Winner will choose any one of the following items:
All Natural Cough Syrup
All Natural Kids Cough Syrup
All Natural Baby Chest Rub
All Natural Vapor Rub
Breathe Better Nasal Ointment
This giveaway is open to US residents only and will end on December 6, 2013.
How do you enter to win?
On the Giveaway Tool form below, simply complete as many entries as you would like. Please note that ALL entries are validated prior to winner selection, so do make sure that you fully complete each entry.
.
Coupon Cutting Mom received one or more of the products mentioned above free for evaluation purposes. Regardless, all opinions expressed are still 100% my own.